Whether you're a console gamer or a PC gamer who uses controllers, I think we can all settle out our differences once and for all. I think we can all agree that having the right equipment is quintessential to maximizing the game's response times to the users' inputs. Which is all just fancy talk for increasing the enjoyment of your game.
Having the right kind of controller while gaming can sometimes be the last deciding factor of whether you're going to win or not, so don't settle for the ordinary. Get a gaming controller that makes sure the only thing standing between you and your glorious win is your sheer skill.
PlayStation DualShock 4 Wireless Controller
PlayStation controllers are hit or miss sometimes, but this controller is definitely a hit.
Sony upgraded many aspects of their controllers over the years.
That's a good thing! While they made a lot of improvements, arguably the most important aspects are the shape and sensitivity, making this controller a must for PS4 users.
Look for the built-in speaker and stereo headset jack, newly designed dual analog control sticks, and a handy recharging with a USB cable.
Not a fan of black? Pick another color!
Read Reviews from Real Owners for "Playstation DualShock 4 Wireless Controller" on Amazon.
Elite Series 2 Controller
Sleek and sexy, this pro-level Xbox controller can also work for PC. You'll need to deal with a bit of Bluetooth negotiations, but once it's set up, it's a snap to use.
Interchangeable thumbsticks and paddle shapes make this selection a no-brainer for those who like to customize their gear.
It's a wonderful high-end option that includes up to 40 hours of rechargeable battery life.
That means more gaming and less time waiting. You have lots more options, too. You can use Xbox Wireless, Bluetooth, or the included USB C cable to connect.
Read Reviews from Real Owners for "Elite Series 2 Controller" on Amazon.
SteelSeries Stratus Bluetooth Mobile Gaming Controller
Gone are the days of awkward and tiny on-screen controls for mobile games. With this controller properly set up, you'll be enjoying your game for so long, you may even forget it's mobile.
This is a perfect option for mobile gaming. With some finagling, it may even work for PC.
This neat controller boasts the ability to play any controller-enabled game you have on you Android, Windows, Steam, or VR with Microsoft's X Input and Direct Input. The Bluetooth adapter is sold seperately.
This isn't rechargeable, which is a bummer. However, it does have an impressive 40 hours of life with the two included AA batteries. A standard size battery means simple, easy switch-outs when the time comes.
Read Reviews from Real Owners for "SteelSeries Stratus Bluetooth Mobile Gaming Controller" on Amazon.
Xbox Wireless Controller
This is a decent upgrade from the standard Xbox controller, though it's lacking many bells and whistles.
Still, it's a nice upgrade without breaking the bank.
It has twice the wireless range, includes Bluetooth that can work on Windows PCs and tablets, and it's compatible with Xbox One X, Xbox One S, Xbox One and Windows 10.
Not too bad for the price!
Read Reviews from Real Owners for "Xbox Wireless Controller" on Amazon.
AmazonBasics Xbox One Wired Controller
Who says controllers have to be fancy name brand gizmos?
This is a great budget plug-and-play option that works with select PC games on Windows 8 or higher. It can even be used for budget PC gaming.
It comes with a lengthy 9.8′ USB cable to plug directly into the Xbox One.
With dual rumble motors you'll feel the action. And you can't go wrong with a standard 3.5mm jack for plugging in headphones.
The headphones aren't included, but with this low price, you can buy yourself a nice set anyway.
Read Reviews from Real Owners for "AmazonBasics Xbox One Wired Controller" on Amazon.
Razer Wolverine Ultimate
Ooh, shiny! Razer is known for their killer gaming gear, and this controller is no exception. With the luxurious and elegant feeling of this controller paired with the fancy and possibly over the top Chroma RGB lights, this is sure to be the best splurge option on our list.
This baby comes with interchangeable thumbsticks and D pads that let you decide on height, shapes, and even tilting options.
The buttons are remappable, making this the ultimate in customization.
Also, anyone who immediately noticed that Razer misspelled "thumbsticks" as "thumbsticker" can join me in laughing. Razer may be full of pro gamers, but they're noobs at editing it seems.
Read Reviews from Real Owners for "Razer Wolverine Ultimate" on Amazon.
Logitech Gamepad F310
Simple and easy to set up, this wins for our best budget PC option.
You can't go wrong with a basic controller made by one of the most trusted names in gaming technology.
No bells and whistles here, folks. Just pure gaming satisfaction.
Easy plug-n-play USB that works with Windows XP, Vista, and 7, and it has 10 programmable buttons.
Read Reviews from Real Owners for "Logitech Gamepad F310" on Amazon.
Microsoft Xbox Adaptive Controller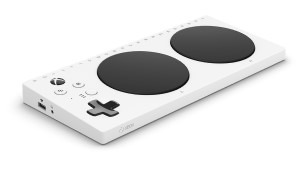 Gamers come in all shapes and sizes, so it's only fair that there is a controller for those who may not be able to use traditional controllers. Gamers with limited mobility won't have to sit on the sidelines with this awesome piece of gaming tech!
With Microsoft's revolutionary design for a controller, more gamers can now game more comfortably than ever. You'll be able to attach a wide range of devices to fine-tune your gaming experience. Switches, buttons, mounts, just to name a few!
The only downside to this technological marvel is that it currently costs a whole lot and isn't readily available at Amazon, which means no speedy and free prime shipping.
Nintendo Switch Pro Controller
Ever played your Switch, but missed the feeling of a traditional controller in your hands?
Or maybe you have big meaty gamer claws and have a little trouble using the Switch's tiny Joy-cons and crave a bigger controller?
Either way, this is the answer!
It comes stock with motion controls, HD rumble, built in amiibo functionality, and a charging cable.
Read Reviews from Real Owners for "Nintendo Switch Pro Controller" on Amazon.
Astro C40 TR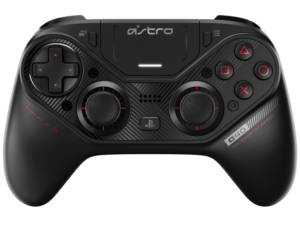 Technically designed to be an upgraded version of the Playstation Dualshock 4 controller, but it will also work on PC and Mac as well.
Actually, to simply call this controller an upgraded premium version of the original PS4 controller, might just be an insult to this Astro C40 TR.
Want to have 2 thumb sticks on the left side and the D-pad on the right? No problem, just switch 'em out. More a fan of the Xbox layout type controller? Guess what, it can. With the included Windows software, it is even possible to map every button to your desired function.
The finish is really of a very high quality, giving this controller a truly premium and durable feeling. Astro Gaming definitely didn't cut any corners creating this controller! This also translates itself to the price tag, it's quite on the hefty side.
Read Reviews from Real Owners for "Astro C40 TR Controller" on Amazon
Conclusion
Whether you're more of a sleek style kind of person, a "just the essentials" kind, or the kind of gamer who loves to splurge for the best of the best, I hope that this article has helped you to find the perfect gaming controller for your game cave.