So, you're all alone in your awesome game cave, either by choice or unfortunate happenstance. What the heck are you supposed to do now? How about grabbing your trusty deck of plain ol' regular playing cards and getting ready for some entertaining solo play?
That's right; you can totally play card games all by yourself without feeling like a loser. In fact, win a few of these games in a row and feel your gamer prowess swell. Read on to find out about our favorite solo-player card games and how you can get started.
The Best Single-Player Card Games
If you're in a hurry to get down with yourself and a deck of cards, this is the article for you. We'll hit the high points of each game listed here without going into too deep of detail. We're including videos to go along with them to help.
The best card games you can play by yourself include:
The Classic Solitaire
Solitaire is the quintessential solo card game. The beauty of Solitaire is that it is so incredibly easy to learn, even little kids can catch on quickly. In fact, this game is so easy to learn and so widely known that there are buckets of offshoot Solitaire games to fit any player's tastes. We'll get into some of those later. The classic Solitaire goal is to sort a deck of cards into a specific sequence that's based entirely on their suits and their rank. You accomplish this by moving the cards from one stack to another, keeping track of each of the four stacks and what's already in them as you go along. It sounds simple, and it really is if you think about it, but it can be complicated and challenging at times. It's that challenge that draws people to Solitaire time and time again. Here's a quick and detailed tutorial video to get you started. Sorry about the goofy narrator, at least he's got killer game details.
Devil's Grip
Devil's Grip uses the entire deck of standard playing cards, minus the aces. The whole point is to pile the cards onto a grid. Of course, it goes deeper than that, because what fun is just stacking cards willy nilly? For Devil's Grip, each stack needs to be done in a certain order with specific cards in specific locations. Jacks should be on top in the top row, Queens are on top for the middle row, and Kings get to be on top for the bottom row. This video also has cheesy music and a silly-sounding narrator, but the gameplay info is spot on.
Forty Thieves
Forty Thieves is not for the faint of heart. An advanced and extremely challenging game, Forty Thieves uses two standard decks of playing cards. The goal for this single-player card game is to move all of the cards from the grid, or tableau, and the discard pile into the eight foundations. This is accomplished by building the foundations from Ace up through King. This great video covers the details in less than 3 minutes.
Garbage
Garbage doesn't sound terribly appealing, but just trust us here. It takes some skills to turn a multiplayer game into a fun solo game, but you can do it with ease when you play Garbage, also known as Trash. The goal is to line up all the cards in a standard deck, in sequence, starting with the ace. Since this is traditionally a multiplayer game, it's supposed to be about whoever gets the sequence correct first. To make this a single player game, you'll need to race against the clock instead. Check out this video explaining how to turn Garbage into a solo card game.
Clock Solitaire
Clock is a Solitaire variant based entirely on luck and not so much on skill. If you like games of chance, this is the solo card game for you! Since it's based on Solitaire, Clock is pretty easy to learn. But don't let that fool you. It's nearly impossible to beat. Up for the challenge? For this game, all you need to do is complete all of the four-of-a-kind sets in a standard card deck before you reveal the fourth King. The challenge here is that there are 13 starting piles and they are all facedown, meaning you have a pretty high chance of revealing all four Kings before you can win. Try it out and see if Lady Luck is on your side. Need to see it in action? Here's a quick tutorial.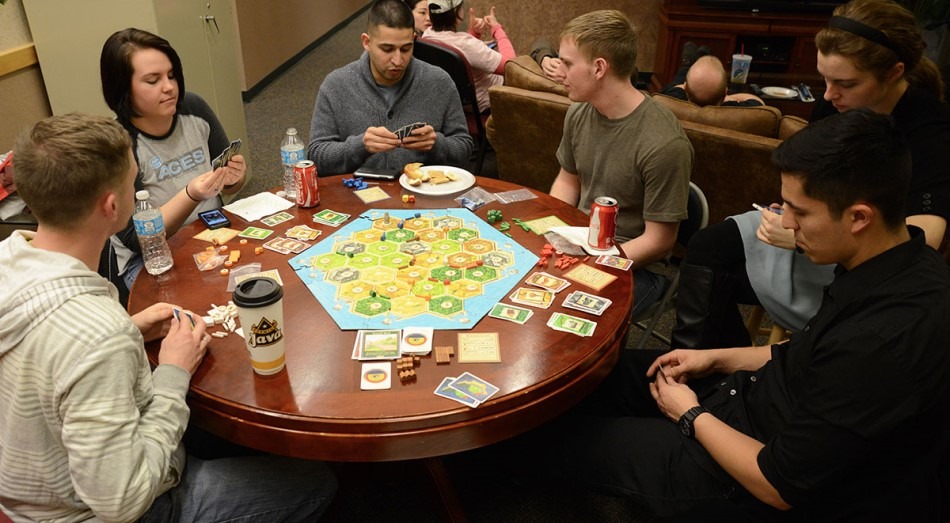 If You Are interested, Read Our Article About
Other Solo Activities with Standard Cards
As fun as these games are, if you're in for a long time all on your own, you're going to need some variety. We've got your back, people! Now, hear us out on this one; it might sound terribly dorky at first, but we promise you'll get a lot more use out of this than showing off your Solitaire skills at the next party in your game cave.
Teach yourself card tricks. Yeah, yeah, that's probably the opposite of what you think is cool, but if nobody's watching, who cares? Give these card tricks a shot when you're by yourself the next time and see how fun this can be. We can't promise you'll become the next great magician of all time, but you just might learn some tricks to entertain yourself now and maybe some other people one day down the line.
4th Card Prediction
Tricky, sneaky, smarty-pants you can wow your friends with this stupidly easy card trick. There is no sleight of hand, no trick setups, and no long hours of practice involved. Nearly everyone is fooled by this one, so it's a great card trick to whip out when conversations begin to dwindle or you want to get some attention. It's a good one to play with on your own, too, just to keep yourself sharp and your hands limber.
The Trick You Can't Mess Up!
The best kind of card trick is the kind that can't be screwed up. That's exactly what this is. No math, no sleight of hand, and no skill needed other than being able to count out loud. Using a full standard card deck, you can even surprise yourself while you perform this trick—which is why it's pretty fun to learn this trick for solo play. Check out this video to see the trick and how it works.
Don't yet have a slick pack of professional playing cards? Look no further, we already did the research for you and came up with some double deck of plastic playing cards which will make practicing card tricks a breeze!
Non-standard One-Player Card Options
So far, we've looked at some of the best card games you can play by yourself that share a common element. They all use a standard deck of cards (or two!). But what if you want something a little less… pedestrian? Maybe your tastes run more on the wild and crazy side, definitely not safe for work, and not at all kid-friendly. If that sounds like you, you're not alone.
Joking Hazard: Playing with Funnies
There is a game out there called Joking Hazard made by Cyanide & Happiness. Yes, we're talking about that crazy, sometimes totally twisted webcomic with the little stick people.
The card game version is technically a party game. That means it was originally meant for multiple players.
Yet, due to the totally random nature of the game, the number of included cards (and add-on packs available), and the myriad of playstyle and possibilities, it's super easy to play this by yourself. While there won't be any opponents to beat, you can still have a great time building your own three-panel comics, extended stories, or nonstop rows of hilarious and disturbing situations.
Again, the game wasn't meant for single players, but who says you have to follow the rules? Especially considering the place these cards came from in the first place. Do keep in mind that all the games on this list up to this point have been kid-friendly. Joking Hazard is absolutely not made for children. Please be sure only adults get their grubby paws on this game. You've been warned!
Read Reviews from Real Owners for "Joking Hazard" on Amazon.
Cards Against Humanity: Everything that's Wrong with Society
Another party game that can actually be adapted for single-player fun is Cards Against Humanity.
Just like Joking Hazard, this is absolutely not made for kids.
While this game can bring out the worst in any group of people, it's a lot of fun to see what kind of twisted combinations you can make up on your own.
Once again, you won't really be winning or losing this game if you play by yourself.
Yet, the potential for hilarity is quite high. If your goal is to entertain yourself, and you happen to be a bit twisted, both of these games can help keep you busy when nobody else is around.
Read Reviews from Real Owners for "Cards Against Humanity" on Amazon.
Conclusion
Being alone doesn't have to mean flipping through social media for hours on end or wishing you had someone to play games with. When you learn these card games to play by yourself, you'll always have a way to entertain yourself. The beauty of the solo card games listed here that use a standard deck of cards is that the deck itself takes up hardly any room in a pocket, bag, or briefcase. That means you can bring entertainment with you wherever you go, no electricity or batteries needed.
What are some of your favorite solo card games?
Image Credit: kickstarter.com
Last modified: