There are lots of guides out there about VR headsets, comparing and rating them to help consumers choose. Yet there is one big thing missing from all those articles. They're all so vague, they never specify which headsets are good for specific game genres.
Well, that ends today. If you've ever wondered what the best VR headset for PC sim racing is, I've got you covered. But why does the headset matter if the game is already awesome on its own?
Simple: You wouldn't enter the Grand Prix in a jalopy, so don't try VR racing in a crappy headset that's going to die in the middle of your game.
What Makes a Good VR Headset?
The world of virtual reality is complex, but we won't be getting into the nuts and bolts of how it works and why. I'm guessing that you really only care about the details of what makes a good VR headset. And of course, specifically what makes a VR headset good for PC sim racing.
We're not talking swords, magic, and dragon slaying here—this is all about speed and precision.
The Fit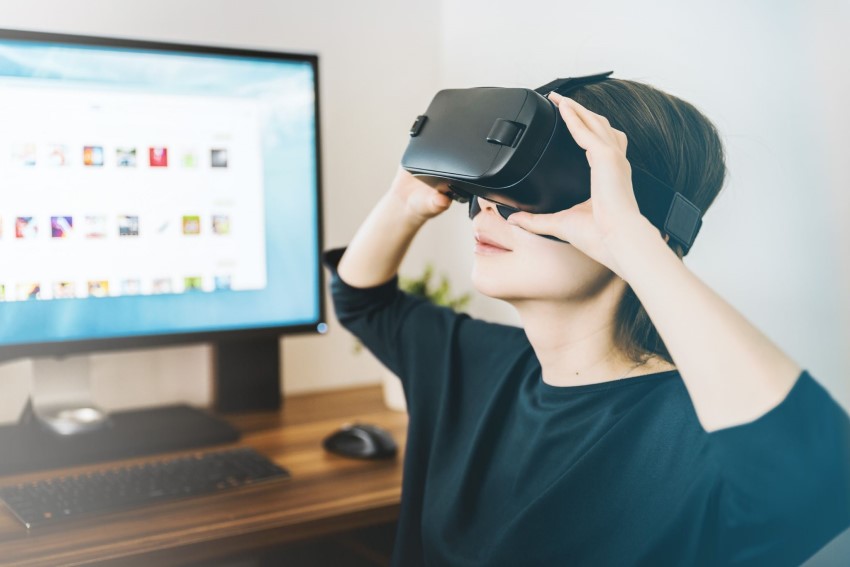 The absolute most important aspect of a great VR headset is how it fits. After all, if you can't stand how it feels, you're not going to stay in VR long.
You're going to really start hating your virtual life if the headset digs into your real head, weighs you down, causes headaches and nausea, or makes your face sweat so bad your gear slips off while you drift. Look for a headset that can be adjusted at multiple points to create a snug, even fit around your face and head.
Ideally, there will be a head strap along the top of your head to keep the whole thing from sliding down to your chin. Look for side adjustments and even adjustments for the space between the goggles and your eyeballs. Every small point matters.
The best VR headsets have adjustable everything from straps to snaps to knobs and whirly-gigs. Okay, I made up that last one, but they might as well add those in next. Look for a headset that can accommodate glasses if that's a concern for you; trust me when I say they don't all feel good with your spectacles on.
I've seen a lot of complaints about bent frames after a particularly long VR racing session. Don't let that be you.
Weight
All VR headsets are going to feel heavy at first, but some are truly unwieldy beasts.
They may feel okay in your hands, but imagine carrying around half a pound or more of dead weight hanging off your face for an hour. I guarantee that's going to screw with your performance on the virtual track. Weight is especially noticeable in long sessions.
It's also dangerous and frustrating when you need to swing your head fast to look in your blind spot for another racer on your tail.
Device Compatibility and Specs
Not all VR headsets will work with all platforms, so do your homework.
I'm only covering PC VR headset here, but you can get a headset for consoles and smartphones, too. Beyond the obvious compatibility of device to headset, you also need to be sure your PC can handle the incredible needs of a VR headset.
You're going to need a lot of processing power, plenty of graphics power, and a ton of RAM.
Space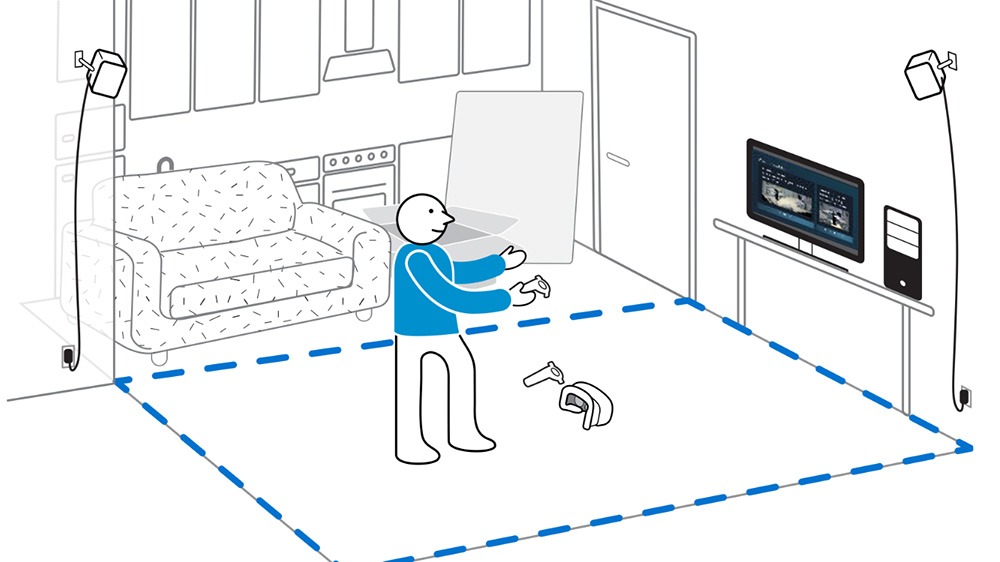 How much room do you have to play? While racing sims are mainly sit-down games, you may want to venture further into the virtual world one day and try another type of game.
For those, you'll need adequate room to play.
Some sets have additional equipment to really pull you into the game. These will need more room than the simple, headset-only options. Be sure you select the setup that fits your physical space.
Cost
I'm not going to sugarcoat this.
Virtual reality is an expensive hobby.
You're going to lay out a lot of cash to get up and running, and you'll be putting down even more each time a new game hits the shelves or a new accessory becomes available.
VR is an addiction that's going to cost a lot.
Even so, there are some less pricey options on the market. They may not be the top of the line, but they'll get the job done if money is tight.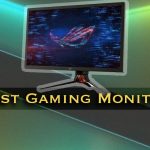 If You Are interested, Read Our Article About
Best VR Headsets for PC Sim Racing
Best High-End, High-Cost Choice: HTC Vive Pro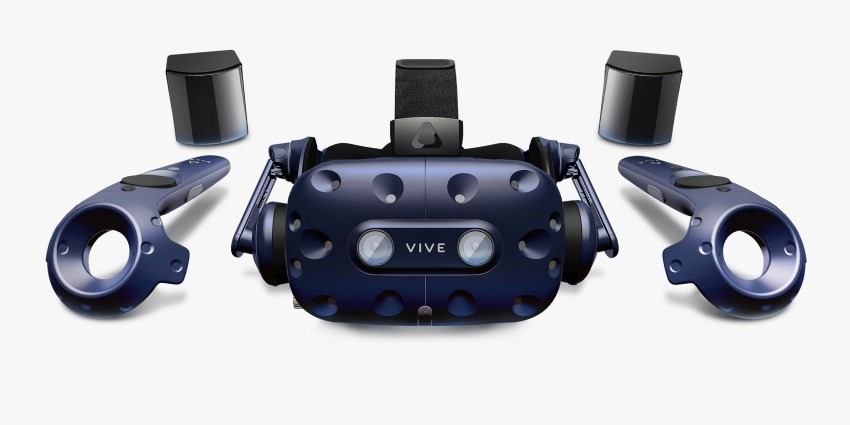 If money is no object for you, grab the HTC Vive Pro and don't look back. This baby will blow your mind right from the start.
Though originally intended for corporations and business use, the home user population has skyrocketed in recent months.
Why?
Because this VR setup cannot be beat.
Want to feel like you're really driving?
The Vive Pro gives the ultimate immersive racing experience in games like Project CARS 2 or Assetto Corsa with 6 degrees of freedom (DoF) and head tracking. All you need is the smell of hot asphalt and burning rubber wafting through your game cave to complete your mind-blowing, VR racing experience.
The Vive Pro has one of the best visual offerings on the market with a stunning 3k display, and HTC is always improving on it, too. It's currently over 75% higher resolution than their other VR offering, the HTC Vive (which is also amazing, by the way).
Unlike many other VR setups, this one comes with dual controllers tracked via mountable laser trackers with nearly zero lag.
The only downside to the HTC Vive Pro for PC sim racing is that it can be quite heavy after a while.
It's a beast of a VR headset with incredible OLED displays for each eye, so the added weight is for a good reason. It's also big enough and completely adjustable for those who wear glasses—totally worth a little extra weight to make sure every player gets a chance to scream across the track in comfort.
Read Reviews from Real Owners for "HTC Vive Pro" on Amazon.
Best High-End, Mid-Cost Choices: HTC Vive, Oculus Rift
HTC Vive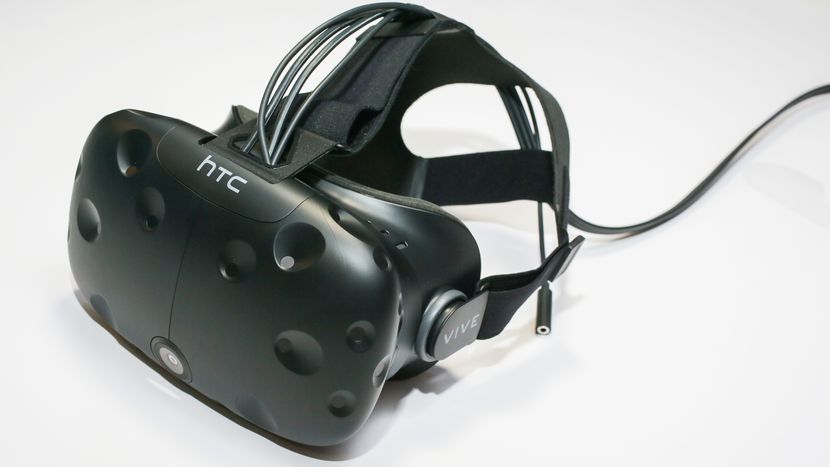 It should come as no surprise that I'm a total fan of the HTC family of VR products. They are the best of the best.
Though the Vive Pro is my personal go-to for VR PC racing sims, the standard HTC Vive comes in a close second. It's a much more affordable price point, while not skimping too much on the bells and whistles.
Like the Vive Pro, the standard Vive has 6 degrees of freedom (DoF) and head tracking as well as two controllers, while many other headsets and phone-based sets only provide 3 DoF. This gives you a deeper feeling of immersion and whole-room scale, which can help reduce motion sickness. The standard Vive has slightly less impressive resolution than the Pro version, but it's still better than the low-end headsets and mid-level headsets.
Like the Pro, the standard Vive has an incredible 110-degree field of view (FoV) that offers a wider and taller range, outshining some of the other models on this list. The standard Vive can use the same lighthouse laser trackers and controllers as the Pro version, so you can actually switch to the Pro if you want to upgrade later.
Give it a shot with Raceroom Racing Experience. Though that game isn't native to VR, the port is stellar and feels natural with far less stutters than other racing sim ports.
Read Reviews from Real Owners for "HTC Vive" on Amazon.
Oculus Rift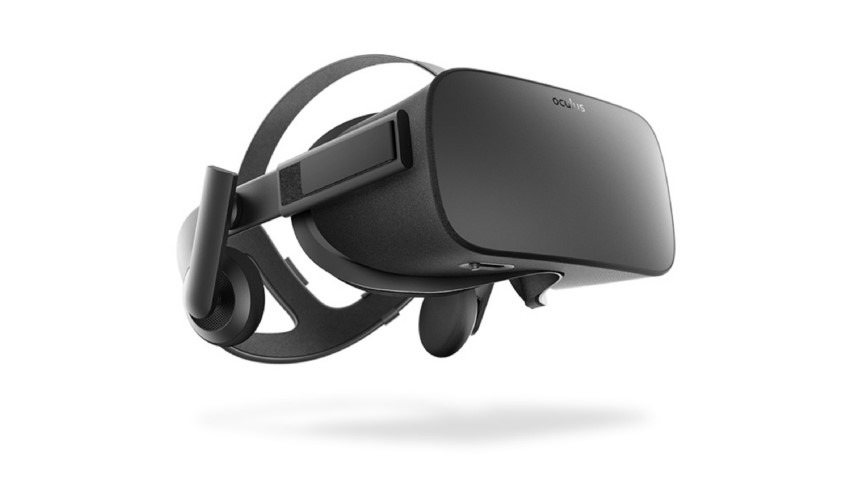 Oculus Rift was the groundbreaking, mind-blowing, incredible first step toward true VR for the masses. The flagship Rift is practically a household name, synonymous with VR now and forever.
The Rift didn't just earn its place on this list because it was the first in its class. It's a solid rig even with today's huge competition for every VR dollar.
One thing all the competition has done is drive the price of the Rift down, making VR attainable on tighter budgets. Even better, Oculus is now available in a truly portable version, too—but I'll get to that in a minute.
The Rift works best with three external sensors, but it does still have some minor latency issues that the HTC VR options don't have. Even so, the Rift is a good value for the money due to the company's dedication to customer support and frequent software updates.
Dual touch controllers help with immersion, as does the lighter weight of the headset. A major downside to the Rift is that it's either available everywhere or nowhere, seemingly at random. I suspect this has to do with new versions coming out or quiet and quick upgrades before they release the next wave, though I don't have any facts to back it up.
Call it a hunch based on anecdotal evidence, if you want to use fancy terms.
In any event, the Rift is a killer rig for a modest price that will make your toes curl when you fire up Live For Speed and Dirt Rally VR. Awesome graphics, decent tracking, and a nice price point make the Rift a recommended option for most people.
Read Reviews from Real Owners for "Oculus Rift" on Amazon.
Best Mid-Level, Mid-Cost Choice: Samsung HMD Odyssey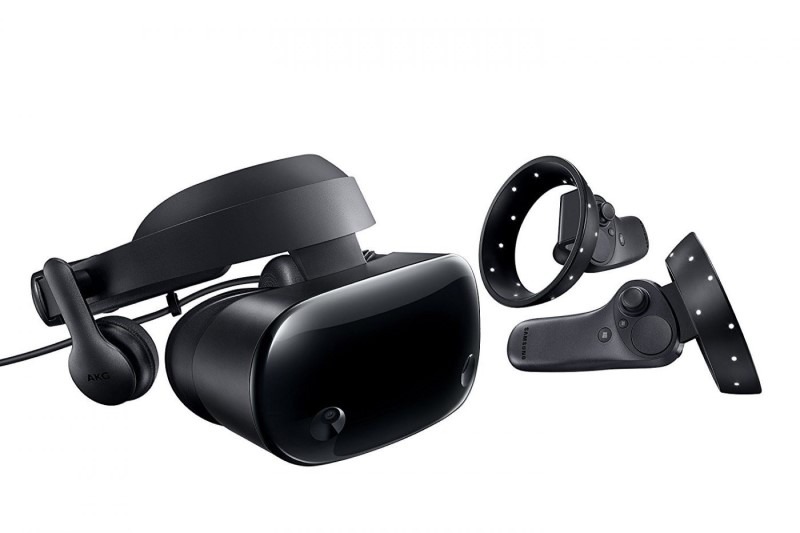 Samsung's entry in our VR headset lineup is a cool Windows Mixed Media offering that can keep up with the standard Vive without much effort.
It's a smaller, lighter headset with a respectable 6 DoF, 360 degrees of spatial sound through built-in headphones, and 110 degrees FoV.
This headset comes with a built-in mic to complement the headphones, making online chat (or trash-talk) a breeze.
My biggest issue with the built-in mic and headphones is that it's less fun for anyone else in the room. Sure, you can turn them off and fiddle with some settings to let everyone hear what's going on, but VR racing is so much better with a roomful of pals cheering you on. Just my opinion though.
If you dig the solitary, mysterious driver in the dark room all alone look, you'll love the headphones and mic on the Odyssey.
According to Samsung's website, this VR setup is compatible with any Windows Mixed Media badged controllers, which adds a new level of customization.
Additionally, the Odyssey has Xbox One controller support as well. That makes it a little easier for younger kids to use or is a nice backup if your Odyssey controllers stop working for some reason. As a package, it's a solid build with responsive controls and good headset tracking.
Read Reviews from Real Owners for "Samsung HMD Odyssey" on Amazon.
Best Low-Level, Low-Cost Choice: Oculus Go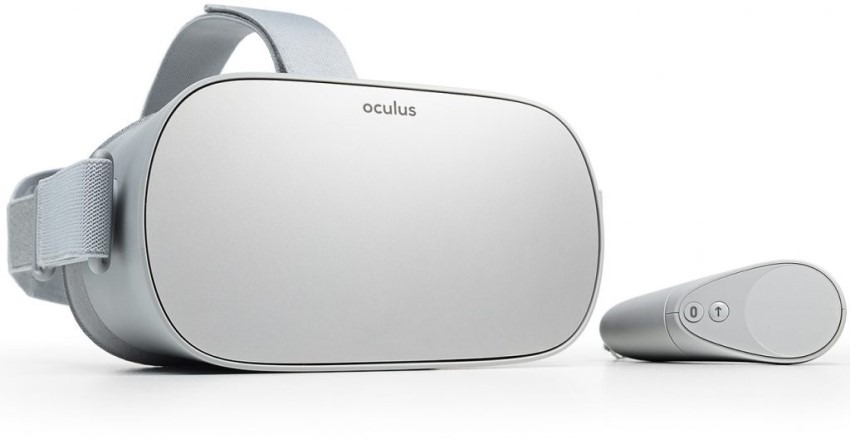 Since this article is mainly for PC VR racing sims, I'll keep this entry short. I know, this isn't for PC, but it's totally worth mentioning to help you dip your stick into VR before hitting the gas on a bigger purchase.
The Oculus Go is an affordable alternative to PC VR headsets, though you'll need a compatible phone to make it work. Their choice of racing-type games is fairly limited, but the library keeps growing, so keep your eyes peeled.
It's got a decent resolution for a portable, phone-friendly VR headset, and it's lightweight, to boot. The Go is also glasses-friendly.
Read Reviews from Real Owners for "Oculus Go" on Amazon.
Conclusion
Racing games on PC are killer in their own right, but adding that in-your-face realism of VR will shove your heart down to your gut the first time you romp on the gas.
A couchbound adrenaline rush has never been so sweet.
If you're ready to get your drive on in VR, grab one of the VR setups listed here and you won't be disappointed. Just remember to check your system specs before you buy, and check the game availability, too.
Not all games are compatible with all VR headsets.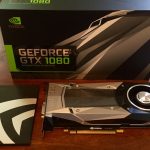 If You Are interested, Read Our Article About
Related Questions
What Is the Best VR Racing Game?
The top-rated VR racing games include:
Assetto Corsa
Project CARS 2
Dirt Rally VR
Need For Speed – No Limits VR
Be sure your VR headset is compatible with your game before you purchase.
Which VR Headset Has the Best Resolution?
The Vive Pro has the best resolution for PC connection at 2160X1200.
For Smartphone VR, Samsung Gear VR is a good choice, but it depends on your smartphone's resolution.
Do You Need a PC for VR ?
No. Some VR headsets are available for consoles and smartphones.
However, current VR technology works best and is more frequently improved for PC gaming.
Image Credit: wired.com / roadtovr.com / cnet.com / spar3d.com
Last modified: