We can all enjoy a nice board game from time to time, but what If you're having friends over in your dorm room and don't want to play the classic board games everyone knows and loves? The possibilities these days are endless and the quality of some of the games in this list are beyond belief, as well as the game play might be something you've never experienced before.
Looking for the Best Board Games for College Students? Choosing an absolute best game is impossible as everyone has their own preferences and playing styles. That's why we've set up a list of 30 of the best games available today, you can't go wrong with any of these!
Cards Against Humanity
One of the most popular games of this time is Cards Against Humanity, and our list cannot be complete without it. The creators call it a party game for horrible people. And they're not far off, well so to speak. It's a humorous card game where each player asks a question from a black card and the other player has to answer it with their funniest white card. I think you can already imagine all the hilarity this will cause when you're playing this with your friends.
Speaking of friends, there's not really a limit to the number of players you can play Cards Against Humanity with, but the recommended number of players is 6 to 8. Think you will be bored after a couple of rounds of the same questions? Think again my friend! There are numerous expansion card packs available and they will keep on coming so every game will be even more hilarious then the previous round!
Read Review from Real Owners for "Cards Against Humanity" on Amazon.
Exploding Kittens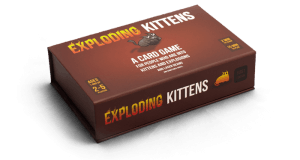 How do we start explaining this one? Exploding Kittens is a mix between Russian Roulette and Chess… or so they say. It was once started as a Kickstarter project with a goal of $10.000, but they eventually collected up to $8.782.572! Yes, that's almost 9 (NINE) MILLION DOLLARS. Now we're not exactly Wizz kids here, but I do think that's kind of successful. I guess the internet really likes kittens.
The goal of the game is simple, really. Just. Don't. Die.
Like in Russian Roulette! You play the game with a team of 2 to 5 players with a deck of different cards. Players take turns drawing cards, until some unlucky bastard draws an exploding kitten and is out of the game. Unless they have a defuse card like a laser pointer, belly rub or catnip sandwich.
If you know anything about cats, that's probably the only way you get to divert the attention of these little monsters and stop them from killing you. Besides that, there are numerous other options to stop yourself from exploding in a feline fireball of fur and catnip! This is one you absolutely need to have in your collection of party games!
Read Review from Real Owners for "Exploding Kittens" on Amazon.
What Do You Meme?
Are you a real Meme God? Good, because this is the game for you. Show off your 9GAG skills to all your IRL friends and beat them with the funniest memes. That's just about the goal of this game. Every round a rotating jury will choose the funniest combination of pictures and text created with the cards, which will be awarded points. The game is over when all the cards are dealt, or when everybody is hungry and decides to order pizza. This is definitely not a game for all ages, so be aware! Especially with the NSFW expansion packs, you will be hooked for hours of fun. Wanna bet your dorm room will be the most popular of all on game night? No one said you're bound to use the memes of the game… why not secretly print some awkward and embarrassing photos from your friends' Facebook and use them in the game?
Read Review from Real Owners for "What Do You Meme?" on Amazon.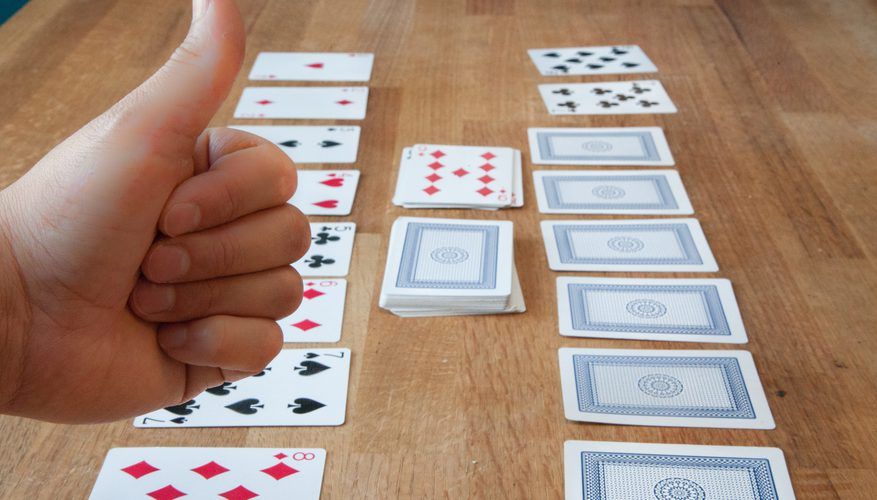 If You Are interested, Read Our Article About
Settlers of Catan
This game doesn't need an introduction anymore. It is sometimes shortened to Settlers, or Catan, but it's of course the exact same award winning strategy board game. On the road to victory players need to collect resources, build roads, settlements and cities. The objective is to reach the first 10 victory points. You can obtain these by obtaining settlements, cities, longest roads or largest army cards.
It's a no brainer to see why this game won the best selling Board Game of the Year award time and time again. It's all about the strategy to generate and trade your resources throughout the game to help other players out in their needs in the game, without losing track of your own needs to build settlements, cities and roads. Not quite enough for you as a basic game? No problem, as there are multiple options to expand your board gaming experience.
Read Review from Real Owners for "Settlers of Catan" on Amazon.
Codenames
Codenames is a great party game and one that has been increasingly popular! It's a must-have game for every collection and is sure to be a hit with new players and experienced players throughout!
It's a party game suitable for 2-8 players and you'll be working alongside your teammates and a nominated spymaster to work out where your fellow agents are in the field, while also making sure to avoid the innocent bystanders and the dangerous assassin!
Codenames is a fantastic, easy to play word association game that sees players split into two teams, each with a nominated spymaster. It is up to those spymasters to communicate the locations of the agents to their teammates. There's one big catch however, the locations are all associated with words and the only way to communicate these is to give one word clues!
Once a clue has been given, it's up to your team to work out which words the spymaster is trying to communicate to you. If you select a correct word, then good for you, you've found a fellow agent! Be careful though, select a wrong word and you might be in for a world of trouble! You could have mistaken an innocent bystander for an agent, not the smartest thing to do. You might have well found one of the other team's agents which will simply give them the upper hand! Or even worse, you could find the killer assassin. This means the end of you.
You'll need to work together to find all your agents and make yourself victorious and successfully complete your mission!
Read Review from Real Owners for "Codenames" on Amazon.
Pandemic
Most boardgames have one goal and one goal only in mind, for you to be the one and only victor by defeating everyone in the game. Pandemic is not one of those boardgames. In this game you'll have to work together to save the world of … well… world endangering Pandemics.
There are at least 4 endangering Pandemics waiting to announce the end of times and it's up to you, the group of players, to prevent this from happening. Or at least limit the amount of damage a Pandemic can do. There's only so much you can do to save the world, you know.
The goal is to find a cure and prevent a further spread of potential diseases. The game is won by finding a cure for all diseases (represented by the colors blue, yellow, red and black). However, it's not as easy as it sounds. You get to choose a character card at the beginning of the game, with each character having their own specific traits to discover a medicine or prevent an outbreak. An outbreak will be accelerated by a chain reaction at 3 disease stones per city. You only need 10 outbreaks to lose the game.
Sounds challenging enough for you? Be my guest and try it out now!
Read Review from Real Owners for "Pandemic" on Amazon.
Ticket to Ride
Ticket to Ride might just be one of the best family board games ever, and that also makes it perfect for your dorm room gaming nights. It's a train adventure that takes you across the map of the USA, or Europe, Asia, Africa and many other countries and regions that are available.
The goal is to collect cards of various types of train cars which will allow the player to claim railway routes connecting cities in different parts of the map. The longer these routes are, the more points you can earn. Sounds simple, right? That's because it is! You can score additional points by fulfilling goal cards and having the longest continuous route. But beware of your competitors, as they will try to make your life a living hell by making you lose one of your favorite (i.e. the most profitable) routes.
All aboard!
Read Review from Real Owners for "Ticket to Ride" on Amazon.
Watch Ya' Mouth! (Family Edition)
Do you like to go to the dentist and have one of those mouthguards shoved in your face so the dentist can do its usual business in your mouth? No? Well, that doesn't matter because Watch Ya' Mouth is nothing like a visit to the dentist! Except for the mouthguard bit that is.
It's a bit like charades, but in this game you're actually allowed to say the phrase the other players need to guess. Whilst having cheek retractors in your mouth. Can you imagine the absolute hysteric situations you and your friends will have when you try to say something like "warm beef meatballs"?
Like to get naughty and talk dirty? No problem, there's also an adult expansion available. Fair warning: be sure to brush and floss your teeth before playing this hilarious game, because your white grill will be on full display!
Having napkins nearby might also come in handy, not only for wiping away your tears of laughter, but some drooling is also to be expected!
Read Review from Real Owners for "Watch Ya' Mouth" on Amazon.
Telestrations After Dark
You might already be familiar with the original Telestrations where you have to draw out words for the other players to guess within a 60 second time limit.
The After Dark version is more of the same recipe, but with a little extra spice added to make it more NSFW for those late night party game sessions.
Not the best artist in your friend group or just plain terrible at drawing?
Don't worry, that will make it only more fun!
The only downside is you might have a sore face afterwards from all the laughter.
Read Review from Real Owners for "Telestrations After Dark" on Amazon.
Sequence
Sequence is a mix between a card game and a strategy board game. It's a game that's been with us for some time now as it was first released in 1981. That doesn't make it less fun though, as the basic principle of the game is still perfectly suited for college students almost 40 years later. Each player is dealt playing cards and a set of poker chips.
The playing board itself is a collection of all the pictures on the playing cards. The purpose of the game lies in having a "sequence", or rows, of five poker chips on the game board by placing the poker chips on corresponding cards the player has played. Once a player or a team has 2 of these sequences, they win.
Simple, right? It's all about the strategy though, so choose your cards wisely!
Read Review from Real Owners for "Sequence" on Amazon.
Star Wars: Imperial Assault
I don't think the Star Wars universe as a theme requires any introduction, so let's just get to business here. It's Star Wars. It's a board game. Of Star Wars. With characters from Star Wars. Still need to know more?
Well okay, fair enough.
You find yourself right in the middle of the Galactic Civil War between the Rebel Alliance and the Galactic Empire after the destruction of the Death Star. There are 2 different ways to play the game, a campaign mode or a skirmish mode. In the campaign game you are granted limitless troops and resources of the Galactic Empire to battle against a team of Elite Rebel operatives. The objective? Breaking the hold of the Empire on the galaxy.
It all takes place in a cinematic environment of the Star Wars universe and even allows characters to evolve throughout the story.
The Skirmish version enables you and a friend to gather strike teams and fight head-to-head over conflicting objectives. You'll need tactical skills and make tough choices in building a deck of Command cards to gain the upper hand in dangerous and exciting missions.
May the Force be with you!
Read Review from Real Owners for "Star Wars Imperial Assault" on Amazon.
Forbidden Island
An Island designed to sink beneath your feet with every step you take, whilst trying to capture four sacred treasures from the ruins of an island full of danger. You'll have to work together to develop a strategy to get you, your characters and the artifacts of the island before you all end up at the bottom of the ocean as fish food.
Or, as the creators themselves describe it: it's a game that instantly generates an electrifying atmosphere of tension and excitement! This is a game designed to be intense and get your heart rate pounding in your throat as the minutes on the clock are ticking by. You're only given a limited amount of actions, resources and crew members to choose from, either you all win, or you all lose.
Sounds like a great recipe for a fun and exciting night with your college friends, where instead of trying to beat each other, you work together to beat the game.
Read Review from Real Owners for "Forbidden Island" on Amazon.
Qwirkle
Sometimes you might be scared to start off your game evening with a big, hefty and complicated to understand board game, because the explanation alone will take forever. Or maybe some of your friends just aren't that bright and require more time to comprehend the rules of the innovative and engaging titles I've mentioned in this list earlier.
For those of you I present: Qwirkle! The concept is very simple and easy as you only need to match colors and shapes laid out on a table. Seems childish even, right? Well, there are a massive amount of possible combinations as you have three tiles each of 36 possible color and symbol combinations (for a total of 108 tiles). You can match color or shape, not both. And if you are matching shapes, you cannot repeat the same shapes. Same for the colors. This is where strategy and forward thinking enters the game and will make every player, new or experienced, have a chance of making an epic move that swings their point total to first place.
Read Review from Real Owners for "Qwirkle" on Amazon.
Dutch Blitz (Original and Expansion Pack)
A card game where speed is of vital importance to win, that's what Dutch Blitz is all about. Designed in the 70's of last century, Dutch Blitz is still a game that will appeal to a wide audience and will guarantee a fun night with friends. The goal is to get rid of your own stack of cards as soon as possible with as much points as possible. The Olympic spirit of "participating is more important than winning" goes out the window when playing Dutch Blitz, it's every man or woman for themselves!
The contents of the game include 160 cards in total which will be divided into 4 decks (Pump, Carriage, Plow and Pail). Each deck then has 10 cards of red, blue, green and yellow playing cards. These cards are key to accumulating players' points.
When one player doesn't have any more cards left to play, this person yells "BLITZ!" from the top of their lungs and the game ends. At that point the scoring begins, and the winner is determined.
The original game is designed for 4 people, so having a lot of friends over in your dorm room will probably exceed this limit. That's why we suggest to go for this duo-pack which includes an expansion pack to extend playtime and add more players!
Read Review from Real Owners for "Dutch Blitz" on Amazon.
Blokus
This might look like a simple game, and in theory it is, as it only has one rule: each piece you play must touch another of the same color at the corners. You only need to place a piece of your own color on the board every turn you take, until the board is full and no one can place another of their pieces.
The player with the least number of pieces left wins!
However, don't be deceived as you might face fierce competition from your opponents as they will try to strategically block your every move.
Basically, this is like Tetris on a non-digital game board!
Read Review from Real Owners for "Blokus" on Amazon.
7 Wonders
A beautiful example of a clever strategy game that might not be as easy to learn, like some other examples, but will be very rewarding and never the same when you get your grips on the gameplay. In 7 Wonders you're the leader of one of the great 7 cities of the Ancient world, and you'll have to develop commercial routes while carefully gathering resources and maintaining your military supremacy. Write history by building 1 of the 7 Wonders of the world, achieving your goal with a collection of cards you gather on your travels through three ages of time.
As a bonus you can show off your military power to one of the neighboring cities at the end of each age! Who doesn't love a good fight in a card game? I don't mean the physical kind of fighting of course. You only need to score the most points based on your military conflicts and resources you've gathered in your card collection. Every game you play will be different, so the replay value of 7 wonders will have you and your crew entertained for multiple games all night long.
Read Review from Real Owners for "7 Wonders" on Amazon.
Dixit
Imagination is a big part in the attractiveness of playing some fantasy board games as you get to create your own dream world through the story being told.
Dixit is quite different as this is a card game where you tell the story. Each player is dealt with big playing cards that have beautifully illustrated artwork, one active player secretly chooses one of the cards and describes it with a clue about the "story" of the card. The other players need to find a card in their hand that fits the clue best, then everyone puts their card on the table face down and shuffle them around.
After revealing the cards face up, they all have to guess which card was the active player's one. Here's the catch though, you can't have all votes in your favor as this will not bring you any points. At least one person also has to guess wrong for you to score points. This is where your creativity and imagination will come in to play and create a story to convince your friends you have the best card to match the story! But in Dixit, you actually need to be second best to win!
Read Review from Real Owners for "Dixit" on Amazon.
Carcassonne
Ever heard the expression "Rome wasn't built in a day"? Well, neither was Carcassonne and yet here we have a tile-laying game about building the French city including all its roads, cities, monasteries and fields. Scoring points is only done by having followers on features as they're completed, you will need to use your strategic wits to yield the most points and ultimately win the game.
Just because you've started to build a road, that doesn't mean your friends can't come by with one of their followers and place them on the nice new road you've started building, eventually claiming more points than you, upon completion of the project. A bit of luck, backstabbing and under the table dealing will sure keep you and your dorm room friends amused with a game of Carcassonne!
Read Review from Real Owners for "Carcassonne" on Amazon.
Catch Phrase (Uncensored)
A ticking time bomb in your hands, a digital screen flashing a word or phrase in your face and it's up to you to get your team mates to guess the right answer based on your clues. You'll also have to be sure not to let the little beeping bomb in your hands go kaboom! Okay, it's not really a bomb and there's only a buzzer going off instead of a room destroying explosion. But it does mean you lose and the other team gets the points!
In my book, that's about the same.
Catch Phrase is an amazing fun and fast-paced party game, you can play with 4 people or more than 40. It's up to you. For our dorm room special, I've chosen to go with the Uncensored version.
Thought that'd be even more fun!
Read Review from Real Owners for "Catch Phrase (Uncensored)" on Amazon.
Tsuro
A tile laying board game where you get to be a flying dragon, meet Tsuro.
You place a tile on the playing board and move your stone dragon along a line to the end of the tile. Every turn you can get further along the board by placing your next tile.
Careful with the dragons though, as you are not alone on the board and the other players' tiles will eventually cross your path. This changes your flight path and may throw you off the board! Manage to stay on the board long enough and you win!
Tsuro is a simple and fun game with high replay value, a real winner in my opinion!
Read Review from Real Owners for "Tsuro" on Amazon.
Small World
Small World is a sci-fi game, with a lot of resemblances to Risk, based in a world of elves, trolls and humans with special abilities. Better than Risk however, because in Small World you can just start over with a new combination of race and special powers after an opponent has wiped your race off the face of the earth. This makes the game feel fresh and unique every time you play.
Dice rolling is also a no go in Small World, making it less frustrating whilst still having a fast paced play through.
Conquer and control the board with your race as fast as possible, as there's no room for the weak in this awesome board game!
Read Review from Real Owners for "Small World" on Amazon.
Dead of Winter
Humanity is practically wiped out, the world you know has ceased to exist. Death and disease is what is left in the ruins of society, with flesh hungry monsters waiting for a sweet meat bag to walk in to their arms.
You are one of the survivors who leads a faction and in order to win this game, you need to come out alive and have completed your secret mission. This is where the psychological warfare begins as the secret mission can be something completely harmless, but can also wreak havoc amongst the other survivors or plain sabotage the entire group.
Just don't forget to feed the hungry!
I think we all know and love the TV series about post-apocalyptic survival in a world infested with zombies. Dead of Winter is like being right in the series living between fear and betrayal. Survive the winter, survive the dead, survive each other!
This might just be one of the best story-centric games in this list, a true must have!
Read Review from Real Owners for "Dead of Winter" on Amazon.
Mysterium
Welcome to the haunted manor of Mysterium! Warwick Manor is the crime scene of a horrendous crime and it's up to you, a psychic investigator, to solve it. Sounds familiar?
Of course, it does!
In contrary to Clue however, this game is a lot more intense in its gameplay. The players get in different roles each game. One gets to be the murdered ghost who needs to lead the mediums (the other players) to the right murderer, with the right weapon and location. However, the ghost doesn't remember how it all happened. That's why ghost and mediums have to cooperate to catch the culprit, only communicating and guessing based on beautifully illustrated picture cards.
It's safe to say that Mysterium takes Clue to the next level, with a supernatural twist.
Read Review from Real Owners for "Mysterium" on Amazon.
The Resistance Avalon
The Resistance: Avalon is a so-called social deduction game from a series of games where players have to blend in a group as evil or good people. To top the experience off, Avalon is in a King Arthur theme which is a nice touch. The more the better is definitely true for The Resistance: Avalon, as the game gets better and more fun as you play it with more friends!
Each player gets a character card, each linked to good or evil, and some even have a special ability.
It's up to the players to know who to trust and when to deceive.
Surely a hit if you have a lot of friends over in your dorm room!
Read Review from Real Owners for "The Resistance Avalon" on Amazon.
Quelf
You better have a sense of humor for this one, otherwise you won't be enjoying the party! Quelf is a crazy bizarre game where you, as the player, have to move around the board and try to reach the finish area as first.
You roll the dice, move your character and pick up a card of the colored space you just landed on. Then you have to do what the card tells you to do. If that means you have to snort like a hog every time you laugh, well though luck, because you'll be doing it or you'll be taking 2 steps back on the board! Your abs will have a great workout every time you and your friends play Quelf, as this may be the most wacky and hilarious game in this list.
Read Review from Real Owners for "Quelf" on Amazon.
Killer Bunnies
A unique, fun and crazy card game where the main aim is to collect carrots, make sure you have at least one rabbit left, and try to steal or kill off your opponents' rabbits. Kill rabbits you might ask? Isn't that a bit cruel? Well yes, of course it is. But in Killer Bunnies and the Quest for the Magic Carrot only the cards will provide the beating, fluffy little critters won't get hurt whilst playing this game! The deaths are a bit tragic though, as you can liquidate a bunny with a kitchen whisk, have them abducted by aliens or even release a virus on them.
The gameplay is so random that you won't get bored by it too fast, and even if you want to step things up a notch, there are many expansion carrot cards (booster packs) available. That will mix up the experience even more!
What are you waiting for? Get out there and start collecting magic carrots!
Read Review from Real Owners for "Killer Bunnies" on Amazon.
Memoir 44
If you love history and are into World War II, then Memoir 44 might be the game for you! You command a horde of little plastic Army men in different battle scenarios throughout the game board, mimicking historical terrain, troop placements and objectives of the axis and allies army.
The board itself is designed to have both beach landings and countryside terrains at your disposition. It's even double sided to be able to create as much variation as possible. The addition of terrain effects in the game spice things up a bit, so you won't always have an easy and predictable time playing through.
Do you have what it takes to be a true Army commander?
Read Review from Real Owners for "Memoir 44" on Amazon.
Blood Rage
Blood Rage is an all out brawl where Ragnarok, the end of the Norse world, is inevitable. However, there's still some time left for you to have a glorious battle before everyone is headed to Valhalla.
The game has an amazing set of miniatures that really brings the theme to life and will surely draw non-playing people's attention to the battleground on your table. Draft cards and create your hand, spend rage to execute your actions and fight for control of ancient Viking territories. You can even summon monsters of the Norse legends and complete quests. Earn the most glory and you will be victorious.
Read Review from Real Owners for "Blood Rage" on Amazon.
Loaded Questions (Adult Version)
This is a real party game gem! Pick up a card, read aloud the question and let everyone write down their personal answer for this question. The answers are read aloud by the player to your right and you'll have to choose your favorite answer. The one with the favorite answer gets a VIP card, and if you're able to match the other answers to the correct player, you'll also win of these cards.
Being the adult version, the questions are more daring and the answers will be even more hilarious!
Think you know your friends? You better prepare yourself not to open Pandora's box, as the adult version of Loaded Questions will give you some raunchy and suggestive answers!
Read Review from Real Owners for "Loaded Questions" on Amazon.
Last Night on Earth
The zombies are coming and this might be your Last Night on Earth, better get your shotgun locked and loaded! You either play as one of the 4 horror movie heroes or a brain hungry zombie trying to stop the heroes in achieving their objective before sunrise.
It has many different missions that play out very different each time you play. The fun lies in the heroes trying to work together to survive the night, while the zombie players will do everything in their might to stop them.
Hordes of undead will be unleashed over the town in the search for… brrrraaaaiiinzzzzz!
Read Review from Real Owners for "Last Night on Earth" on Amazon.
Conclusion
Having a group of friends over at your dorm room can be fun in it's own way, but things can get really intense when you play one of the games we've just listed here. Whether you want a humorous card game that'll have tears streaming on your cheeks in no-time, or a blood-serious nerve wrecking board game which will push your strategic skills to the edge, there's something for everyone to enjoy in this list. Get your drinks ready, choose your favorite game and have an amazing dorm room gaming night!
Which is your favorite college student board game?
Last modified: