When playing games, one of the major aspects that really sells the whole experience is great audio. And in order to really enjoy that audio, you're going to need to have some great headphones to fully immerse you in the experience.
A lot of headphones like to make the claim to be the best ever, but are they? They can't all be the best. In this article, I'll go over the actual best gaming headphones and why they're the real chosen ones.
HyperX Cloud Revolver S
The best of the best for the most elite and serious gamers (that could be you!). I think this is by far the best entry on the list. At least in my personal opinion; I could be biased though because I've used these on several occasions and have been amazed every time.
That, and this happens to be the gaming headset my mother uses.
Before you start thinking of some silver-haired old biddy playing Candy Crush, you need to know that my mother kicks all the butt in competitive FPS and spends about 60 hours a week gaming. Who do you think taught me to play?
Anyway, this set is absolutely amazing. While not the highest priced on the list, it's not a budget pick either. You're definitely getting a killer headset that's worth every penny and more.
Pros:
Luxury feeling comfort. These bad boys are going to feel like slipping into a plush wonderland of faux leather and hugs.
Crisp, high-quality sound. Listening to these do their thing is like plunging directly into the game itself. It's got that fancy 7.1 Dolby Surround Sound that makes for the most real and immersive gaming experience. The lows, mids, and highs all come through un-subdued and really let the quality of the audio speak to you.
Sexy design. This headset's capabilities are nearly matched by its beautiful design. Silver accent streaks are seen slipping their way across the black matte and shiny body of this set, daring any who gaze upon it to try it out.
Detachable mic. Whether you've finished your raid or just wish to use the headphone portion of this headset, the detachable mic makes it easy to focus on the sound.
Cons:
Pricey. Make no mistake; this is a high-end gaming headset. While this hefty price can be a turn off for some, others may pay any price for this glorious pair of sound cups.
Leatherette ear cups can get sweaty in humid environments. Nothing like a hardcore gaming session to be interrupted by your headset melting off your face. Good news is that at least they're easier to clean then velvet or felt.
Mic is at an odd angle. This isn't really that bad, actually. While you can't move it around to a better spot, the mic is powerful enough to capture your voice and high-tech enough to not pick up unwanted outer noises.
Read Reviews from Real Owners for "HyperX Cloud Revolver S" on Amazon.
SteelSeries Arctis Pro Wireless
Looking for a wonderfully delicious and sexy sound system with a built-in microphone to yell at your teammates? Then do I have the perfect gaming headphones for you!
Sleek, sexy, and full of the technology you need to fully embrace your epic gaming journey, this headset is sure to please.
The mic is top-notch, and users are raving about the quality. While the design itself is minimalistic, this set doesn't really need a lot of fancy stuff on the outside.
All the cool bits went into making it sound incredible.
Pros:
Fantastic sounding audio.
Wireless (in case you thought the name was lying).
Double batteries. Having two batteries means you never have to stop your game to charge your headset. Just swap out the batteries and you're good to go.
Bluetooth and wired options are available all in one fancy box.
Cons:
The price is steep for some users.
The design looks and feels a bit flimsy to some.
Read Reviews from Real Owners for "SteelSeries Arctis Pro Wireless" on Amazon.
SteelSeries Arctis 9X
The problem with setting up your gaming rig is that while something can be highly reviewed and loved, not all platforms are created equal. Take for example, our previous friend, the Arctis Pro Wireless headset.
It is a beautifully preforming headset for PC and PS4. But it wasn't compatible with the Xbox One. Not content with this gap in the market, SteelSeries created a headset that could be enjoyed by Xbox One users.
Enter the SteelSeries Arctis 9X, the wireless headset Xbox One users have been missing in their lives.
But don't feel left out, PS4 and PC users. This set can be compatible with your setup as well!
That's right, if this headset sounded great, but you didn't want to shell out the high price of the Arctis Pro Wireless, then you too can enjoy this masterpiece at a much lower price without losing the awesome.
Pros:
Crisp, clear sounds.
Bluetooth wireless. Gone are the days of tripping over sneaky cables.
Cozy fit.
Cons:
Sad bass has been reported by some.
For the best performance on PC, you need an Xbox Wireless Adapter.
Read Reviews from Real Owners for "SteelSeries Arctis 9X" on Amazon.
Sennheiser GSP 600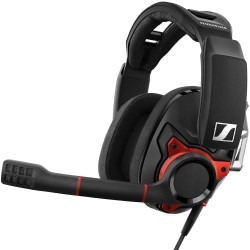 Sennheiser is one of my favorite companies for powerful, high-end sound experiences.
No surprise, the GSP 600 is no exception. This headset is thick with magical and punchy sounds. Highs, lows, everything in between? This beast of a gaming headset has you covered.
That big ol' mic isn't just for show, either.
The mic delivers your hilarious fart jokes to your exasperated companions with crystal clarity.
Users report excellent sound and nearly flawless pickup of even your softest whispered giggle as you take your foes down with glee.
Pros:
Looks neat as heck. If you're a fan of black with red stripes, and chunky mechanical designs, then this headset has all you could want.
The mic is nothing to shake a stick at. Not only is the mic fantastically clear, but it can also automatically mute when pushed up. My old headset did that and trust me, it's a wonderful feature you shouldn't overlook. And that's not just because I like to snack at my desk.
Aggressively amazing audio. Sennheiser has never once skimped on sound, and this headset really shows it. The sound really fills your ears and feels like you're really there.
Large and cozy for added comfort.
Cons:
Mid- to high-end price. This isn't the most expensive one on this list, but it is certainly not the cheapest either. Prices do change, however, so be on the lookout for any sales and snatch this lovely creature up.
HyperX Cloud Alpha
If you're in the market for a gaming headset with a high-range sound and functionality for a nice mid-range price, then your journey is at its end!
For a mid-range cost, you're getting clear sounds and even some distortion reduction.
That's a key component to a killer gaming headset so you can hear your opponents sneaking up behind you before there's a knife in your spine.
Pros:
Powerful bass, without sacrificing other sounds. Finding the perfect balance between booming bass and crisp clean sounds is delicate indeed, but this headset executes both with the style and grace that this company has become known for.
Sleek, elegant design. If you're a fan of modern and attractive looks, like me, then you'll probably be at least a little pleased with how flowing the design is on these puppies.
Detachable and mutable mic.
Detachable and mutable mic.
Delightfully durable. Accidents happen. Whether that means spilling hot coffee on your keyboard during an intense PVP match, or your headphones "accidentally" end up on the other side of the room after a monster decided now was a good time for peek-a-boo, they're unavoidable. Good news! This headset has you covered on the durability test. They are built to last.
Cons:
The bass is perhaps a little too strong. While you'll almost never hear this complaint from me, as I like my bass able to vibrate my rusty gamer bones, some more reasonable people disagree. The most common complaint is that, while the bass doesn't overpower the rest of the sounds, it does tend to be too intense for them.
Doesn't come with a lot of extra bits. Some of the gaming headphones on this list, mostly the highly priced ones, have a few extra goodies in their boxes. This is not one of those. It comes with its essentials and that's it. For most people though, that's fine. Just fewer things to lose or replace, right?
Read Reviews from Real Owners for "HyperX Cloud Alpha Gaming Headset" on Amazon.
Sennheiser PC 373D
Wonderful sounds, aesthetically pleasing, real surround sound… Need I say more?
The Sennheiser PC 373D certainly has my attention!
The mic is fantastic, and you can even customize the sound through their software. These folks understand gamers, and it shows in how this beautiful headset was designed.
Pros:
Immersive 7.1 Dolby surround sound. This headset takes your gaming to the next level by really spacing out the sounds evenly. No one sound is muddled or lost in the highs, mids, or lows. The surround can help to inform you where a sound is coming from.
Large and comfortable. These plush and spacious ear-cuffs hug your face tenderly and whisper secret nothings into your ears. You almost never want to take them off.
Easily mutable mic. Done talking? Simply push up the mic and bam, muted. No button, no program, no fuss.
Cons:
Med to high price range seems unsightly.
Works best with PC, other platforms are a hit-or-miss.
Read Reviews from Real Owners for "Sennheiser PC 373D" on Amazon.
Razer Nari Ultimate
Razer products are another of my favorites for PC gaming.
They make gear specifically for gamers, and the quality is about what you would expect from the high-end part of the gaming market.
They are always updating their look, their software, and their gear to meet the ever-changing demands of gamers everywhere.
Pros:
Wireless.
Bombastic and clear sound.
Magical haptic feedback.
Pillowy comfort snuggles your ears.
Cons:
Lacks noise-canceling.
Haptic feedback with music is not recommended.
Read Reviews from Real Owners for "Razer Nari Ultimate" on Amazon.
Roccat Khan Aimo
Not everyone cares about how their gaming headphones look, and that's cool. Whether you care about that or not, you have to admit these look pretty nice, even with the minimalistic appearance.
Good news is that isn't the only thing they have going for them. They're also comfy, light, and sound amazing.
On a less serious note: the name earns points because it makes me think of a rock and roll cat. Play me some sick tunes, Roccat.
Pros:
Crystal clear mic with auto muting. Much like a few other entries on this list, the Roccat Khan Aimo mic can also mute when pushed up.
Super cool, minimalistic design with added light show, if you like that kind of thing. Come on, you can't look at this thing and not say that it's cool. It's a sleek matte black with shiny accents. Not to mention the light show! This headset can have custom colors and patterns running across it like some kind of magical gift from the heavens.
Big, yet light, comfortable leatherette ear-cuffs. The squishy and spacious ear-cuffs can be worn for hours without causing too much, if any, head fatigue.
Cons:
The rigid mic sticks out a little when stored. For most, this isn't actually an issue, but I figured I'd warn you nonetheless.
USB connection means a more limited range of uses outside PC. While this may put some consoles out of the question, PC gamers won't really need to fear much.
Read Reviews from Real Owners for "Roccat Khan Aimo" on Amazon.
Razer Kraken
I actually currently own the Razer Kraken, which makes me biased because it's great.
With several awesome color options, a reasonable price, and a wide variety of uses outside gaming, it's a shame it's not more widely used.
I love the in-line audio controls, the comfy ear-cuffs, and the ample padding. The sound is spot-on, too.
Pros:
Super cozy ear-cuffs. Large, thick padded ear-cuffs with high quality leatherette coverings. Seriously, I could squish these all day, and you can't stop me. They may be thick, but they're far from dense. They can feel comfortable even after long hours of gaming, and yes, this comfort also includes people with glasses!
Fantastic sound. When paired with Razer's free program, Razer Synapse, this headset can simulate where exactly someone burped from three yards away. Even without Synapse, the sound these deliver destroys similarly priced items without even trying.
Highly adjustable headset size and mic position.
Compatible with a wide selection of platforms.
Cons:
Mic might be a little quiet. If you play on PC this isn't much of a problem: you can just adjust the power of the mic louder, if you're quiet like I am. However, consoles don't always have that option, so you may have to either talk louder or bring the mic a little closer. Just don't bring it too close; no one wants to hear the inside of your mouth.
Bass is a little weak on quieter settings. However, it seems to be fine on a louder setting. You can also adjust the power of the bass with Razer Synapse. Just be ready to possibly fight with it a little, as the program can be a bit finicky sometimes.
Read Reviews from Real Owners for "Razer Kraken" on Amazon.
Turtle Beach Elite Pro Tournament
With five whole words in its name, it gets the title of "longest name on the list". But does this bombastically named head cushion earn its long title, or is it trying to overcompensate for something?
Sometimes, companies like to add extra wacky, zany, and truthfully unnecessary words unto their products just to show off that they own a dictionary.
With all their focus seemingly on a Victorian-era length name, they overlook the actual product. Before you get your pitchfork and leave, you can rest assured that the name isn't the only impressive feature here.
Smooth, delicious sounds ooze through the luxuriously thick but squishy headphones. You also have complete control over what you hear with some killer sound controls with the set linked.
Pros:
Noise-proof. That sound-proof immersion that seems hard to come by nowadays is displayed in its best form with the Elite Pro Tournament. No more distracting outside sounds to get in the way of your village saving (or plundering).
Awesome sound. Yeah sure, it can cancel out the unwanted outside world with ease, but if the sound coming from the headphones isn't good enough, you may as well not even hear it at all. Luckily for these, they blast past the minimum audio experience and land gracefully into high quality sound.
High-end comfort. Super thick ear-cuffs practically melt onto your ears, providing luxurious comfort, even for long wear. And with sounds like these, you won't need to take them off.
Cons:
High-end price. Not only is the headset itself going to set you back a notch, but if you want the premium sound as well, you're going to have to fork over some more for the optional Elite Pro Tactical Audio Controller.
Sleeps on bass. I have said before that I love a good kickin' bass with my sounds, and this, unfortunately, just doesn't deliver. For some though, this may seem as a blessing, and if that's the case then more power to you!
Read Reviews from Real Owners for "Turtle Beach Elite Pro Tournament" on Amazon.
Astro Gaming A10
If you're budget conscious but still want your game sounds to be better than the Tin-man passing gas directly into your ears, then this is a fantastic choice that just may be well worth the chance.
It's not going to blow you out of the water with its looks or its performance if you compare it to the other gaming headsets on this list, but what is lacks in flash, it makes up for in durability and reliability.
It can definitely hold its own, and for this low of a price, it's actually quite impressive.
Pros:
Wonderful audio quality. Even after just after one test run you would think that this was a higher-end gaming headset.
Great price. Hey did I mention this set won't cost a good chunk of your paycheck? Yeah, I was surprised as well.
Comfortable. The A10 may not have the lux leather or faux leather ear-cups like a high-end headset does, but the squishy felt pads make long-term gaming sessions more focused on the game, not the headset.
Comes in three colors. Okay, so they're actually labeled as PC, PS4, and Xbox, but the only actual difference between them is their colors. Aside from the red for PC, blue for PS4, and green for Xbox, their guts and features are exactly the same. What's your favorite color? Mine's PC.
Cons:
No surround sound capabilities. Sadly, as amazing a budget set as it is, its powers don't extend to surround sound. Sure, you can't hear the exact location of where that person's footsteps are, but if you're pro enough, you can feel it.
Very plain in design and features. If you want a headset that's as pretty as it is functional, I'm afraid this one's only got one of those going for it (and it's not the looks). But hey, some people may like the plain and unsuspecting design choice going on; who am I to judge?
Read Reviews from Real Owners for "Astro Gaming A10" on Amazon.
Conclusion
Whether you're in the market for some gaming headphones that are cozy, have superior sound quality, cost effective, or all of the above, hopefully this article has helped you to find the perfect pair for you and your game cave!
Image Credit: sennheiser.com