When it comes to video games, you don't actually need to spend a huge amount of money to have fun. However, being able to game like a pro means putting a little more thought and sometimes more money into certain parts of your rig to help you kick major butt. One of the first pieces of equipment you should consider upgrading is your keyboard, but…
Do gaming keyboards make a difference? Yes, gaming keyboards make a big difference. They are lighter, more responsive, and in-tune with the needs of gamers. Gaming keyboards are customizable and often come with macro support, comfort options, and responsive lighting. They're great for disabled players, too.
The best gaming keyboards can give you the edge you need to wipe your opponent off the map. In gaming, winners and losers are separated by a split-second. The best gaming keyboard under your fingertips is one way to ensure you have the tools you need to always be on top of your opponents, no matter your genre. Below, we'll cover why gaming keyboards are so awesome and which ones we recommend for a variety of gaming genres.
What's so Special About Gaming Keyboards?
All keyboards serve one main function. They're your first and best connection to your computer, making it possible to give commands and communicate with your rig, even if the computer isn't running properly and you need to troubleshoot. For most people, a regular, boring, cheap, membrane keyboard is perfectly suitable for their needs. Typing emails, browsing the web, and chatting in real-time on social media are all easier with a keyboard.
Basic keyboards are okay for casual gamers, too. They get the job done without all the bells and whistles and extra knobs or keys. But if you want to really kick up your gaming a notch or two, step into the world of gaming keyboards and be ready to get your mind blown. Even the lowest end of the gaming keyboard market can drastically improve your gaming, so don't think that all gaming keyboards are too expensive.
But what's so great about gaming keyboards? It comes down to a few key points:
Gaming keyboards have faster response times, which results in quicker commands to your game avatar. Every millisecond counts in competitive play or in fast-paced single-player shooters.
Gaming keyboards are designed with an increased tactile response for touch-only use, which means you don't need to look down to find your keys; you can just feel them.
Gaming keyboards often have macro capabilities, which means you can create your own one-touch combo commands to save even more time in-game.
Lighter, stronger, and designed with gamers in mind, gaming keyboards come in a huge variety of styles to fit the needs of every genre, including special shapes, sizes, and sensitivities in keys, knobs, and buttons.
Many gaming keyboards have cool lighting effects that are 100% customizable and can help guide you to the right keys with a quick glance.
Most gaming keyboards are made with all ability levels in mind, which means disabled users can find fully customizable gaming keyboards that can help reduce their difficulties and accelerate their gaming to the next level.
Some gaming keyboards can talk to your games and automatically set up the keyboard with shortcuts, macros, and other important functions set by the game companies to maximize your fun and reduce your stress and setup time. Many even come with custom color sets to help you learn the control layouts in a snap.
All gaming keyboards are made with comfort in mind. These keyboards are designed for long hours of gaming, so they've tweaked standard keyboard designed to allow your hands, wrists, and arms to rest during downtime, but stay in the correct ergonomic position while actively gaming.
Mechanical keys are far superior to "membrane" keyboards you'll find on work computers or cheap setups. Each key is individually set and they are easier to press. This reduces fatigue for players and increases game response time. They're also really nice to type on if you happen to write for a living as I do!
Top Pick Gaming Keyboard: Razer Huntsman Elite
My personal top pick is the Razer Huntsman Elite. This baby is fast as lightning and fully customizable in nearly every conceivable way. I have some physical disabilities to contend with, and the Razer Huntsman Elite has an answer for every one of them.
First, the mechanical keys are super-fast and responsive with 100 million clicks of durability, but even more important to me is that they're "clicky". This means they make a clear and audible click every time you press one. I have some hearing loss due to many years playing loud instruments on stage, so I can't hear a standard keyboard. The Razer Huntsman Elite is loud enough for me to hear without being so loud that it wakes the family during late-night gaming sessions.
In addition to the clicky mechanical keys, this keyboard also has nice tactile feedback. When I press a key, I can feel the click as well as hear it. This tells me in two unmistakable ways that I've hit the key and I can move onto my next move without worry. That comes in handy during intense multiplayer action in Overwatch, Risk of Rain, and other split-second games.
The Razer Hunstman Elite is much faster than traditional mechanical switches because it uses a high-tech optical beam-based actuation technology. The beam itself tells the computer you've pressed the key. It has a 30% shorter actuation distance than normal keyboards, and the beam is damn-near instantaneous. The clicking sound and feel are mainly just for user satisfaction—all the magic happens silently as the beam is the real key. Press the key, and the beam is blocked. Release the key, and the beam resumes. This is literally the speed of light response time.
What I love about Razer keyboards is the customization. From colors, to layout, to key style and level of sound… you can change just about everything, or find one already made to your exact needs. I could switch out my mechanical clicky keys, for example, and slide in quieter ones. I won't ever do that, but it's cool that it's an option. The Huntsman Elite has Chroma lighting, which lets users control every aspect of the individually backlit keys. Colors, shades, tints, brightness, static or moving, this keyboard can do it all. You can even make every single key a different color because you have 16.8 million colors to choose from. Yeah… 16.8 million, folks!
This keyboard also has onboard media controls. I can change the volume of my games with one touch, mute it, play, pause, skip, plus so much more. That's a huge help for me since my desk is so big and my speakers are about 3 feet away from me. Now I can control the sounds from inside the game and just at my fingertips.
This keyboard also comes with a luxurious wrist rest, though I don't use it. It's attached with a strong magnet though, so you can pop it off or put it back on in a second. With a 2-year warranty and fully programmable macro support, plus sync abilities with more than 30 partners, including game companies, you cannot beat this gaming keyboard.
Read Reviews from Real Owners for the "Razer Huntsman Elite" on Amazon.
Similar, Lower-Price Option: Amazon Basics Mechanical PC Gaming Keyboard
Not everyone can drop a big chunk of money on a Razer keyboard, but that doesn't mean they shouldn't have a great, customizable, killer keyboard anyway. Amazon came up with a lower cost alternative to the Razer Huntsman Elite right here.
It has mechanical switches, but lower quality ones. They can handle up to 50 million "cycles", while the Huntsman guarantees over 100 million clicks. But who's counting? The Amazon version has backlight software so you can do some of the lighting tricks you can do with the Huntsman, though not quite as many options. The wrist rest is detachable, and it has programmable macro keys, too.
This keyboard does not come with a warranty. However, Amazon has always been good to me when returning things. They do state a 30-day guarantee for this type of product if it was "dead on arrival", which is better than no protection.
Overall, it's a decent alternative to the awesome Razer Huntsman Elite. It would make a good stand-in or beginner gaming keyboard while you save up for one of the best.
Read Reviews from Real Owners for the "Amazon Basics Mechanical PC Gaming Keyboard" on Amazon.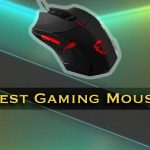 If You Are interested, Read Our Article About
Best Minimalist Gaming Keyboard: HyperX Alloy FPS Pro
Sometimes, you don't need a ton of extra buttons, knobs, and switches, but you still need great response time. The HyperX Alloy FPS Pro was designed with minimalists in mind. This design is especially handy for FPS players who don't need a lot of extra bulk getting in the way. Without the tenkey on the right side, the design of this keyboard is slim, portable, and looks slick. It does come in a full-sized version, but the beauty of the slim version cannot be ignored.
The backlighting is red, though you can choose between shades and brightness levels. These mechanical keys are guaranteed for 50 million keystrokes, which is fairly average for gaming keyboards in this price range. Metal alloy springs in the keys ensure durability, while the gold contacts repel dust and dirt buildup.
There's a convenient "game mode" key to help prevent Windows from crashing your game with an accidental keypress on the Windows key. I really love the "exposed frame" style. It looks sharp and it also makes cleaning and maintenance a breeze.
Read Reviews from Real Owners for the "HyperX Alloy FPS Pro" on Amazon.
Similar, Higher-Priced Minimalist Gaming Keyboard: Razer Blackwidow Lite
If you want a quiet, minimalist keyboard that comes with full macro and key customization, plus Razer's awesome 2-year warranty, opt for the Razer Blackwidow Lite instead of the HyperX Alloy FPS Pro. It comes with many more customization options, quieter keys, and nifty O-ring sound dampeners to help keep your gaming quiet.
The lower noise output is a huge benefit for those who game at night, in apartments with thin walls, or who want to game while traveling. Adding to the portability is the detachable USB cable.
You get 80 million clicks from these tactile keys, as opposed to the HyperX promise of 50 million, if you really feel like counting. I like the slim design of this keyboard and the simplistic style. It doesn't look as "evil" as the HyperX because the backlit color is white, but it's easier on the eyes when gaming in a dark room. It also fits nicely into an office environment if you need a keyboard that can kill it in games while still being an efficient work keyboard.
Read Reviews from Real Owners for the "Razer Blackwidow Lite" on Amazon.
Other Great Gaming Keyboards
While the following gaming keyboards didn't make our top list, they are still excellent choices for a variety of gamers.
Corsair K95 RGB Platinum
Fast response time
Mechanical keys
LED backlight with individual color options
6 macro keys
USB passthrough
Multimedia keys
Redragon S101 Wired Gaming Keyboard and Mouse Combo
Low price, good performance
RGB backlighting with 7 modes and 4 brightness levels
Multimedia keys
Included mouse gets you gaming faster
Conclusion: Gaming Keyboards Don't Have to Be Expensive
Whether you want a full-sized, high-tech keyboard like the Razer Huntsman Elite, or you prefer a more minimalist design like the HyperX Alloy FPS Pro, any gaming keyboard is better than a standard, run of the mill keyboard. You'll get faster response times and better control, which will help you own the playfield like never before. Gaming keyboards don't have to be expensive, but if you want to drop a little extra cash, you can have every conceivable customization option under the sun and an iron-clad warranty to boot.
What's your favorite gaming keyboard? Let us know in the comments!
Last modified: