There is nothing like laying back in a recliner and watching television after a long day at work. Most of us look forward to this time to unwind and let our worries melt away in comfort. But have you ever noticed any lower back pain or tightness when you are in your recliner? Many people have this complaint, so it makes us wonder…
Is sitting in a recliner bad for your back? When properly fitted and with enough support, recliners can be good for your back. Sitting at an angle, leaning to one side, or sitting without proper spine support can fatigue and damage your back, however.
With approximately 80 percent of people developing lower back pain and sometimes disability, it's imperative that we understand how to sit properly in a recliner. Using it as the tool it was intended as will go a long way in ensuring healthy spines and relaxed bodies for years to come. Below, we'll explore the good, the bad, and the awesome facts about recliners and help you choose the right one for your unique needs.
A Brief History of Recliners
Recliners can be found in cinemas, on airplanes, in hospitals, in lounging rooms, and basically everywhere these days. They're a big part of busy modern life. Recliners are, in fact, one of the most popular places to sit during our rare time off. You may not know, but recliners been around since the 1920s, and while recliners have been improved since that time, the basic design remains the same.
And therein lies the problem. In the 1920s, not much was known about spine health and proper posture.
The first commercial reclining chairs were developed with a well-off working man in mind. A man who could afford such luxuries but wasn't prone to abusing it. Recliners weren't meant as a place to sleep or to spend many hours each day. But that's how people use them today, much to the detriment of their backs.
But it doesn't have to be that way. When used properly, a good recliner chair can help alleviate a host of aches and pains and even improve circulation.
Are Recliners Harmful?
There is great debate on what's harmful to back health and what's helpful. The problem with blanket statements and a one-size-fits-all attitude is that everyone's back is different. In fact, everyone's entire body composition is different. What works well for a 6-foot middle-aged man may not be suitable for a 5-foot elderly woman, for example.
Because we are all built differently, so too should our recliners be built differently. Thanks to recent innovations in recliner technology, that's now possible. They come in all shapes, sizes, padding levels, and even with fancy internal massagers and heat.
Is It Safe to Lean Back in Your Chair?
Assuming you have a healthy back already, leaning back in your chair is safe. Granted, that's also assuming your chair was built to lean back. If you're sitting in a flat, stable, kitchen chair that isn't designed to lean back, don't do it. That's just silly and dangerous. Leaning back in a non-reclining chair can result in a tipping injury and even broken bones.
If you want to have the option to lean or push back, opt for a chair designed to allow it. In a capable office chair or a recliner, leaning back is actually good for most spines.
Spine experts advise that you lean back at an angle of 90 to 115 degrees. Between 110 to 130 degrees, your back muscles and vertebrae are under the least amount of stress. That's not exactly feasible for the office environment, though. So, at work, something between 95 degrees to 115 degrees is better than sitting upright at 90 degrees.
For the record, sitting upright with a perfectly straight back is referred to as "perching" and it's slowly destroying your spine. Stop doing that! Perching is for birds.
Can You Sleep in a Recliner Chair?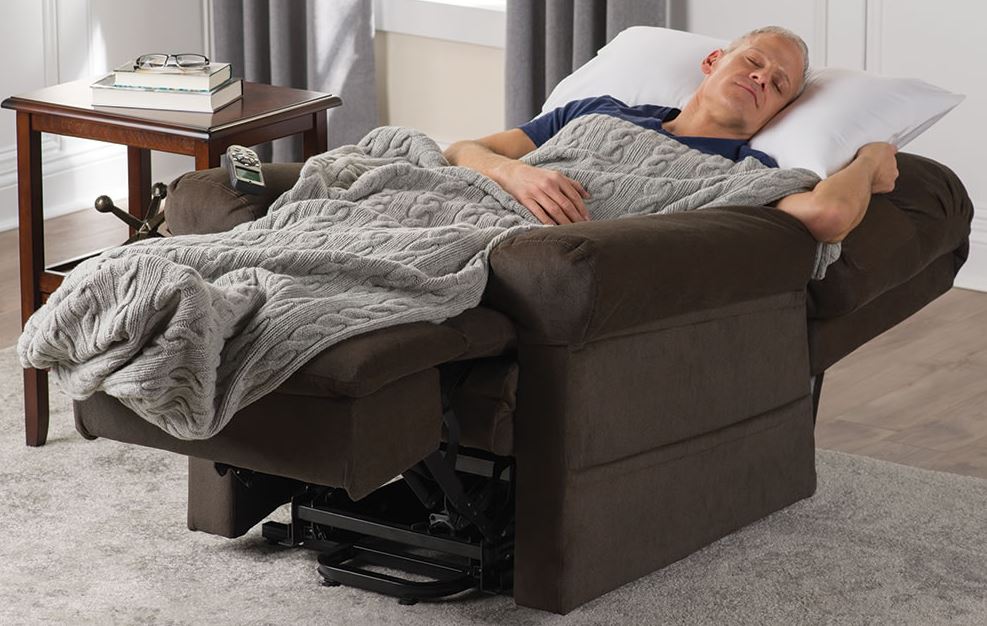 Back in the 1920s, sleeping in a recliner was a perfect invitation for back pain and stiffness. Recliner technology was in its infancy and wasn't made for long-term back support. Today, recliners have been improved to the point you can safely sleep in a recliner. But don't run out and get one just yet. There are some important points to keep in mind.
Some people sleep in their recliners because they can't lay down flat in a bed. This is often due to sleep apnea, allergies, or COPD and other breathing issues. Sometimes it's due to back, leg, hip, or knee issues that prevent laying flat. Recliners can help relieve all of these problems. At the same time, they can also cause them, so be careful.
If you suffer any health issues, definitely see your doctor before you take a nap in your recliner though. If your doctor says it's safe, check out the other points below to get the most out of your new recliner.
If you do decide to sleep in your recliner, make sure your lower back is supported. If there is a space between your lower spine and the chair, you need to put a pillow there to support your back. Just tuck it in the curve of your spine.
Be sure your shoulders are supported evenly and that your hips are at the same level and not cocked to one side.
Support the back of your neck with a cylindrical pillow or a rolled-up blanket to complete the setup. This will support your body in all the right places and provide you spine the relief it needs.
How Do Recliners Help Back Pain?
Recliners can help back pain, as long as the pain and tightness weren't caused by the recliner in the first place. Poor standing posture, overworking, and lifting heavy objects can all result in severe back pain. But so can simply sitting wrong.
Sitting in the proper position in a good-fitting recliner can help relieve the strain and pressure on your spine. The semi-laying position is perfect for letting gravity do some of the work to pull the tension from your muscles and let your body settle into a cradled and supported resting position. This can help realign mildly tweaked areas of your back, hips, and thighs.
Recliners can also help your legs, knees, and ankles feel better, too. Having them up allows blood to flow away from those tired and overworked extremities. A nice bonus to elevating your legs is that it takes more pressure off your spinal cord, allowing it time to rest and heal. It also helps relieve or even prevent varicose veins and inflammation.
How Should I Sit in My Recliner with Lower Back Pain?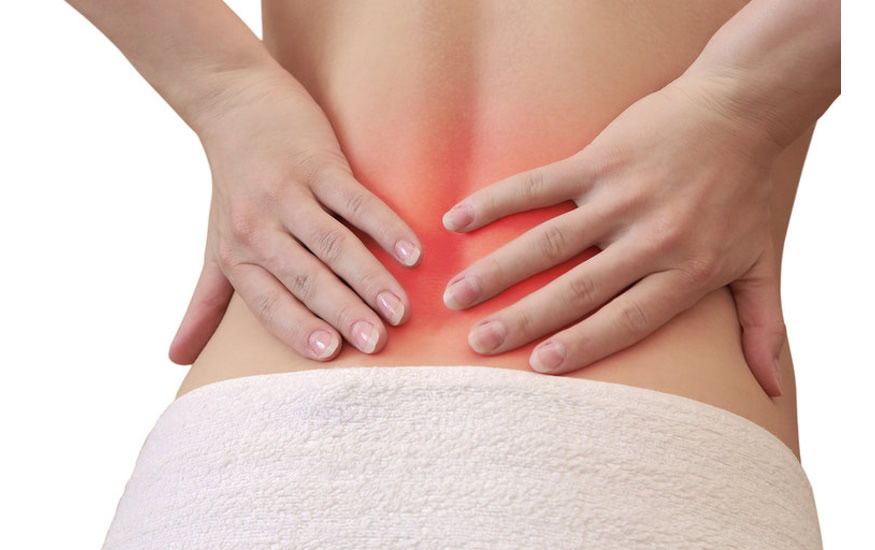 If you have lower back pain or are prone to lower back pain, choose a recliner that can support all the pressure points in your back, neck, buttocks, and legs. The seat should be firm yet yielding under your weight. The back of the chair should bulge out slightly at your lower back to provide support. Your feet should be able to reach the floor, resting flat with no shoes on. The arms of the chair should be at a comfortable height that supports your forearms but does not push your shoulders up.
When sitting, be sure to settle into the middle of the cushion. Many people sit incorrectly by leaning to one side or the other. This will throw out your back and could injure your spinal cord. It's also bad for your hips and knees as it will put more pressure on the hip or knee on the lower side.
If your current recliner doesn't make you sigh in relief and cradle your body in soft support, you need a new chair. If you don't have a recliner yet, it's about time you got one. Life is only getting busier!
If You Are interested, read our Article about
Recommended Recliners
Below, we've combed the available recliners on the market to find the very best to add to your game cave or living room. These are all top-notch chairs with just the right features to give supportive care to your tired spine and a comfortable place to doze, game, watch television, or read. We've got something for every budget.
Budget Winner
The Windaze Microfiber Recliner with heat and massage is a great product at a budget price.
The company doesn't skimp on quality, even with a price point this low.
You get a beautiful, plush microfiber cover that's easy to spot clean and tough to stain. It reclines to 135 degrees with a simple pull of the level on the side, lifting your legs to a comfortable height that encourages healthy blood flow and relieves tension in your spine.
The massage and heat elements are evenly placed and give multiple levels of relief.
With 8 massage points and relaxing vibrations in 4 modes, you can choose to add heat or stay cool without. High-density foam over a sturdy iron and wooden frame will keep this chair in top shape for years to come.
The 33″ x 38″ x 40″ size is a great choice for small spaces, but can hold up to 300 pounds.
A 3-year warranty helps make this recliner our top budget choice.
Read Reviews from Real Owners for "Windaze Microfiber Recliner" on Amazon.
Mid-Priced Winner
Relaxzen has created an awesome mid-priced recliner with massage and heat features to knock your socks off. Plush padding, relaxing back support, and a full ottoman all come together to cradle your tired bones in comfort.
A nice bonus of a USB charger built right in shows that this company understands the needs of modern people!
Nine modes of massage with 8 strategically placed motors will target all the sore spots and heat with warm away your tension.
There is even a roomy pocket to hold the massage and heat remote within easy reach. There's enough room in there for your phone, too!
38.5 x 36 x 39.5 inches and a 300 pounds weight limit make this a great choice for any standard game cave or living room. One of the nicest but simplest features is the gentle rocking motion while the footrest is down.
That's great for easing yourself into relaxation before you put your feet up.
Read Reviews from Real Owners for "Relaxzen Massage Rocker Recliner" on Amazon.
High-end Winner
Our high-end recliner winner is a true wonder of recliner technology. The Seatcraft Equinox Home Theater Seating recliner was made for your game cave. This power recliner has all the bells and whistles plus a whole lot more.
Adjustable power headrests can make or break a home theater experience, and this chair has a great one. It can adjust to any preference, making sure you or your guests will sit in absolute luxury. A power lumbar support keeps your back supported and lighted cup holders make sure you'll never spill your drink again.
How about USB charging? Yeah, this baby has that, too. You'll never want to leave this recliner, and they sure built it well enough you may never have to! Top-grain leather, built-in storage, SoundShaker bass shakers, and a swivel tray complete you home theater seating with pizazz.
If all of that doesn't sell you, check out the specs. 43″ H x 40″ D x 38″ W and when fully reclined it reaches 67.5″. The seat depth is 22″, and it comes with a wall hugger measurement of 6″, making it easy to fit in many different locations.
This is the ultimate recliner for any game cave, home theater, or modern living room. If comfort and tech-savvy designs are you thing, this is the throne you've been waiting for.
Read Reviews from Real Owners for "Seatcraft Equinox Home Theater Seating" on Amazon.
Image Credit: circlefurniture.com / hammacher.com / myloveseatrecliner.com
Last modified: