Finding an ideal projector for daylight viewing can be a real struggle. They weren't originally designed for use in a bright room, so it took a while for technology to catch up to the demand for projectors that can be used in the daylight. Even with advancements in daylight projectors, there's a wide variety of factors to keep in mind when selecting one for your home theater or business use.
What are the best projectors for daylight viewing? Daylight and bright rooms need a projector with 2500 lumens or more or the audience won't be able to see the picture. Consider the size of your home theater or business conference room, and for movies or games, choose a multimedia projector.
While those are good general tips to get you started, you should really dive in deep to get to know projectors. They can be a huge investment, so it's best to be well-informed rather than simply buying the first one within your budget.
3 Daylight Viewing Projectors You Can Invest In
Optoma X600 Lumen Full Network Projector
Optoma X600 is one of the best projectors for daylight viewing and happens to be backed by the Optoma name. It has an impressive 6,000 lumens and the native resolution of this projector is XGA 1024 x 768 with a maximum of WUXCA 1920 x 1200. That's some impressive power in this little device.
It is equipped with 2 HDMI ports and a built-in speaker.
Users are raving about its quiet operation and bright, clear picture. It's also 3D compatible, which is pretty darn cool. Energy-saving features make this product one of the best for your home theater and for the environment, too.
Go Check Out the Optoma X600 Lumen Full Network Projector Reviews from Real Owners on Amazon.
Pros:
It supports 3D projection
The fan doesn't make any noise
6000 lumens brightness
Cons:
It comes with minimal zoom
Epson Powerlite 1980WU 4400 Lumens Projector
One of the best projectors for daylight viewing is the Epson Powerlite 1980WU.
This projector is considered one of the best projectors for daylight viewing by fans and professionals alike. It uses top-quality materials and is backed by the Epson name.
At 10 pounds, it can be moved around easily, it's exactly what we'd call a portable projector. It can be placed very close to a wall though, so it could work in a smaller home theater or a large one.
4,400 lumens gives you bright projection in both dark rooms and light ones. Exceptional contrast ratio and Full HD will impress guests.
With a built-in speaker, 2 HDMI ports and 2 VGA ports, connectivity is a snap.
Go Check Out the Epson Powerlite 1980WU Reviews from Real Owners on Amazon.
Pros:
Very bright and high quality image
Easy to use and set up
Split screen from 2 sources possible
Optoma WU336 WUXGA 3400 Lumens Business & Education Projector
It's no accident that the next projector on our list is also from Optoma. This one is known as Optoma Lumens Business and Education Projector.
This short throw projector is top-rated for its quality and performance, but also highly rated for its surprisingly low price.
Though it only has 3,400 lumens, it's still a decent projector for daylight viewing. Its portability makes it easy to move around, so even if you're trying to watch movies outdoors, you can move to a better location without having to drag a ton of equipment with you.
Connections include 2x HDMI (with MHL), VGA-in, composite, audio-in, audio-out, USB power and RS-232C. It also comes with a 10-watt speaker.
Go Check Out the Optoma WU336 WUXGA Reviews from Real Owners on Amazon.
Pros:
Light in weight
Great lamp life that if 15000 hours
Complete 3D support
The Importance of Brightness to Project in Daylight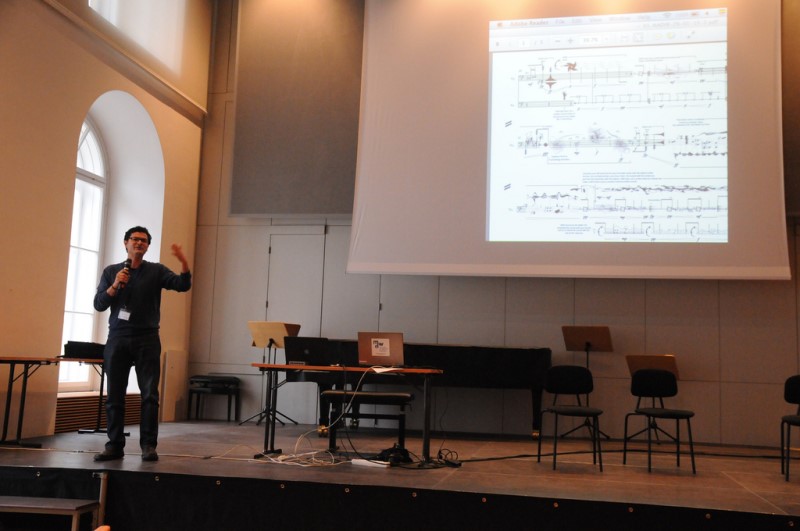 There are a number of factors that help a projector be able to project a video or a picture in daylight clearly. However, the key factor is the overall brightness of the projector.
Lumens measure the brightness. The necessary lumens will depend on what your projector is being used for. You'll need to consider the content, such as games, movies, or presentations; the diagonal image size; and the typical brightness of the room. As mentioned earlier, higher lumen values will make the projector work much better in light rooms than one with lower or weaker lumens.
You may see two different brightness entries on the spec sheet: color brightness and white brightness. Not all projectors will have this, but it's good to know what they mean. Simply put, the white brightness refers to use with text, like presentations or black and white images. The higher the white brightness, the crisper and clearer the black text will appear.
Color brightness refers to the projector's use for games, movies, and viewing highly-detailed images. This would be more for gaming and home theater use, but many businesses like to have that functionality as well.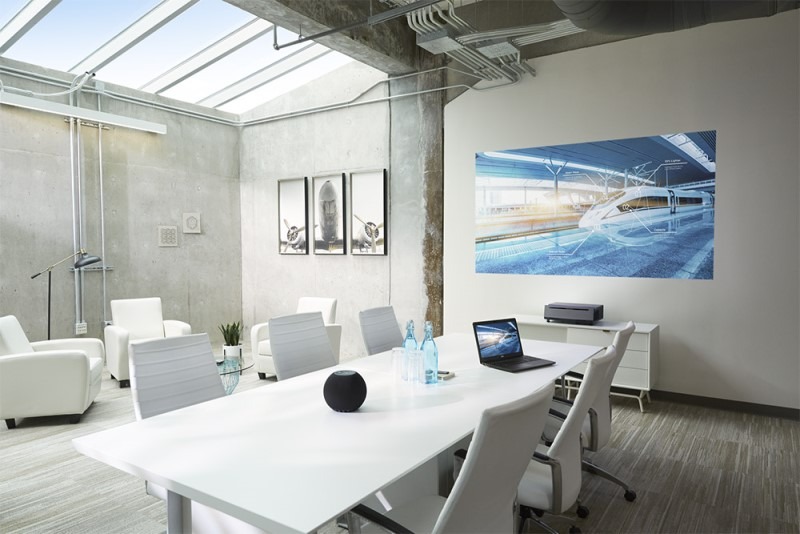 If You Are interested, Jump Right to Our 3 Top Picks
A Word on Resolution
We'll be looking mostly at brightness and other things that affect daylight viewing with projectors, but the resolution is an important aspect, too. We won't cover it too deeply here as it doesn't play as big a factor on daylight viewing, but it is worth noting.
Resolution is directly related to the size and quality of the image that gets projected. Higher resolutions are bigger pictures. Resolution refers to the number of pixels in an image, so higher a higher resolution means the picture has more pixels. More pixels means more details and better image quality.
As such, you never want a low-resolution projector for use on a huge screen. The image will be faded and blurry.
How Many Lumens Do You Need to Project in Daylight?
The best projector for daylight viewing is the one that emits the highest amount of lumens with the highest resolution for your screen size. That means that you should go for a projector with thousands of lumens, not hundreds.
For dark rooms, 1,000 lumens usually works fine. But brighter rooms and outdoors need much higher numbers. Look more toward the 2500 lumens range or higher. If you're projecting to a bright and vast room, look for a projector with 4,000 lumens or more.
If you're trying to project something outdoors, such as a movie or other multimedia, pay close attention to the lumens listed on the projector. For daylight viewing outdoors, go for the highest possible lumens. If the screen is quite large, say 40 feet, you'll want to consider a 5,500-lumen projector.
If You Are interested, read our Article about
The Influence of the Sun on a Projector
You may have noticed we mentioned outdoor viewing a bit ago. Many people don't realize you can purchase a projector strong enough to be used outdoors for a pretty reasonable price. You just need to understand the differences between projecting in a room with controlled light compared to the outdoors where you have no control.
The sun is a major factor in how good a projector will work for an outdoor audience. Avoid any angles where the sun will be shining directly on the screen. This will wash out the image and make the experience terrible for viewers.
Also, be aware of sun glare and reflections. These can come from any direction, so be vigilant regarding your setup.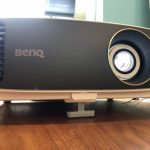 If You Are interested, read our Article about
The Best Way to Get a Good Quality Image on a Projector
Other than getting a high-end, ultra-high resolution projector, there's one thing you can do to improve the image. Simply reduce the size. Remember the brief rundown of resolution from above? That's where this comes in handy.
In a bright room or outdoors, the image is going to suffer. You can improve it by slightly shrinking the size of the image projected. It will help viewers focus on the smaller image and also reduce any unintentional distortions.
It's a no-cost hack to help daylight viewing!
Consider the Design of the Screen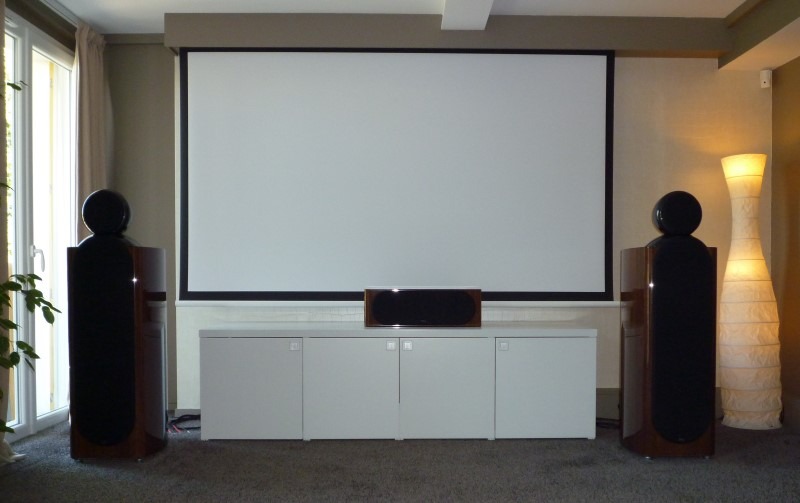 A good screen or surface used for projectors will have qualities that enhance the experience, not take away from it. Consider the color of the screen, the brightness, and the material used.
A glossy, bright white screen in a brightly-lit room is going to be hard to project onto. The whiteness of the screen may look nice at first, but after some time, it can wear on the eyes. The glossiness will reflect too much of the light from the projector and could hurt your viewer's eyes.
On the other hand, going too dark or too matte, you'll lose so much of the image it'll be impossible to see what's going on.
What type of screen you use will depend heavily on the room or outdoor area you'll be using it in. Consider the color, shape, size, and material used and how the environment may affect the screen. Also, keep in mind your angle. It's best to test a few angles and try sitting in a variety of locations to get a good idea of what your audience will be seeing.
A Guideline for Your Daylight Viewing Projector
How to Setup an Outdoor Projector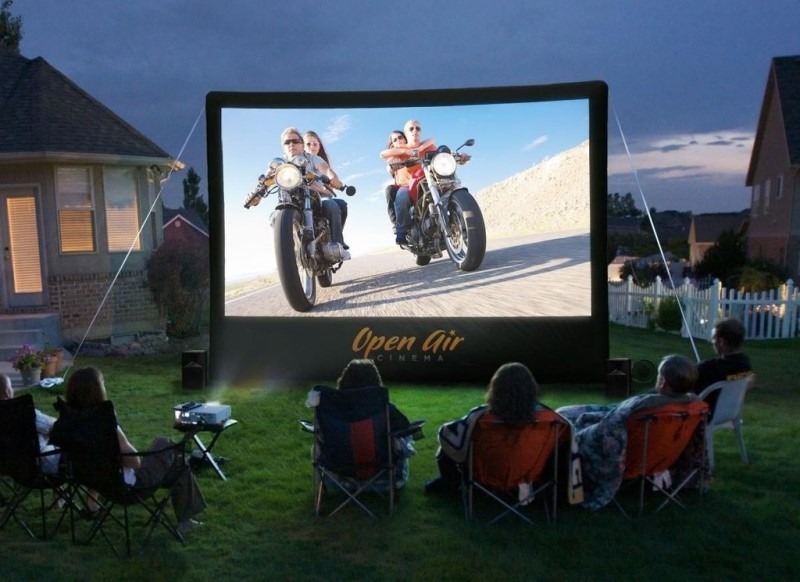 Setting up an outdoor projector is not usually a complex task. It might take some getting used to, but after you get the hang of it, you'll get it set up in no time. Here are some tips to get you started.
All projectors are different. For these tips, we'll look at some of the most common types and builds.
There are various types of outdoor projectors that come with a base and a screen. These sets are usually really easy to set up and break down, as all the parts are included with the kit. They can be quite heavy, however, so make sure you have some help.
There are some outdoor projector screens that are inflatable. These are incredibly lightweight, simple to set up, and can withstand some light winds. The only real downside to an inflatable projector screen is that the blower used to inflate it may need to be running the entire time. That can make a lot of extra noise that will spoil the event.
For setup, be sure to pace out your viewing area, the screen area, and the projector area. You'll want to include plenty of space between each element, plus a little extra for maintenance or emergencies. Make sure your projector is set at the optimal angle and distance from the screen. You'll also need to be sure it is high enough to avoid interference from people walking by.
Check the angle of the screen and pay attention to sunrise, midday, and sunset positions of the sun. If you can get your screen set up near natural shade during midday, that will help your daylight viewing a lot.
Be sure you have easy access to power. You'll want to cover the cords and clearly label and tripping hazards, too.
Be sure to do a test run in your favored location well before the event. This gives you an opportunity to adjust your setup for any unforeseen issues.
It's also helpful to have a backup location and plan in place, just in case.
Think About Storage and Portability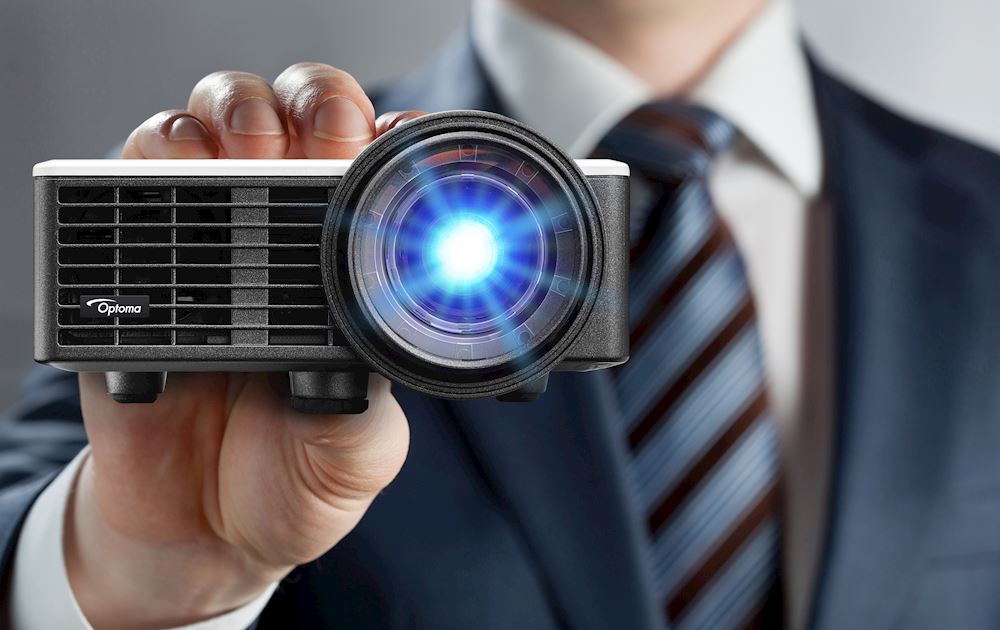 If portability is important to you, you'll need to consider the design of your new projector, not just it's functionality. Lighter projectors are easier to carry around, but they may not be able to pack the punch you need for daylight viewing.
Look for a portable projector with high lumens, high resolution, and a lightweight build. If it all comes with a handy carry case, you're golden! The best cases are hard cover. These are waterproof and provide some shock absorption in case of accidental falls. Soft cases can work, but we don't recommend those.
If your projector won't be leaving the house or office, but you still don't want it sitting out all the time, you'll need to think about storage. Some can fold up, screen and all, and tuck into a corner. Others will need to be reassembled with some tools before each use. If you don't want to spend hours screwing things in or lugging heavy equipment out of the hall closet, go for a portable solution.
Cleaning Your Projector
One of the things people often forget to do with a projector is clean it. A dirty projector is one of the main reason the picture starts to look bad.
First, check the lens. It may be a matter of a simple smudge or piled up dist. Follow the manufacturer instructions for keeping the lens clean.
The second biggest issue as far as dirt and grime goes is the screen itself. Check to be sure it is flat, even, and free of dust or smudges. Even the smallest smudge can greatly diminish the projected image.
Lastly, check any serviceable parts of the projector. You don't want to tear it apart unless the manufacturer says to, so be sure to only gently wipe down the parts you can easily see.
Stability for Outdoor Viewing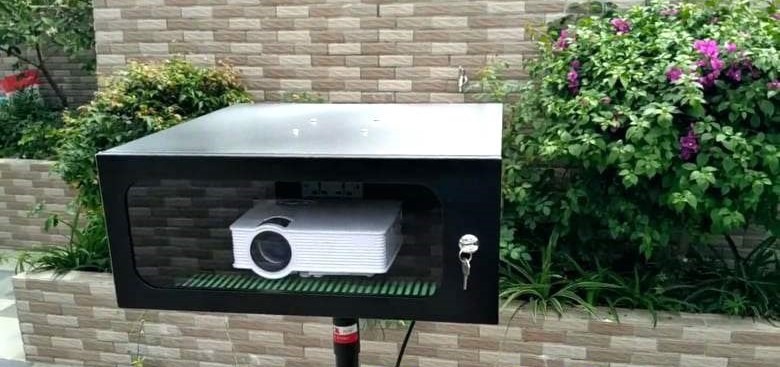 An often overlooked aspect to daylight and outdoor projector use is the stability of the projector. When the wind blows, if the projector isn't stable, the picture is going to suffer.
Choose an outdoor projector with a sturdy frame and adjustable legs or posts. Make sure you consider these things for the screen, too.
So Can You Use a Projector in Daylight?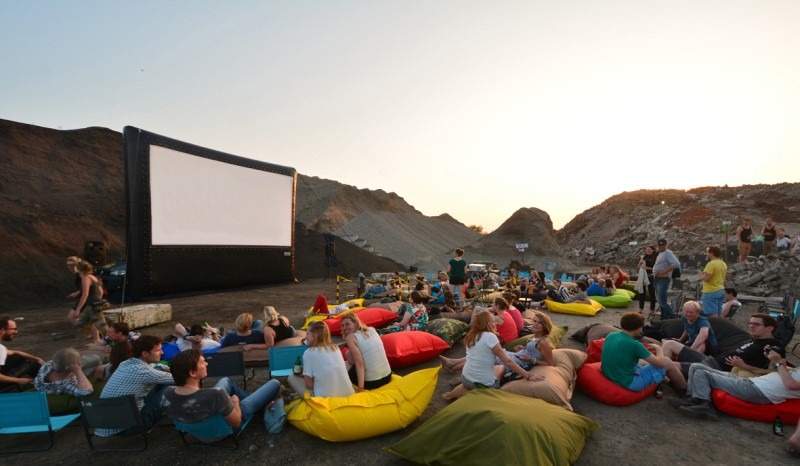 There are so many things to keep in mind when selecting your projector for daylight viewing, it's no wonder many people feel overwhelmed. Hopefully, after reading this article you feel a bit more confident in what you should be looking for.
The key is to know your needs, your audience, and your viewing location. Once you understand all of those factors, you can compare projectors to find the one that fits your needs best. You can always start with one of our three recommended projectors and get started on the right foot.
Image Credit: optomaeurope.com / flickr.com / wikimedia.org / projectorpeople.com
Last modified: