Darts has become one of the favorite games played worldwide. Though there are many companies that produce darts of all levels, it's best to choose the best darts for beginners when you're first starting out. Choosing the wrong set, or a set designed for professionals, can seriously inhibit your enjoyment and the rate at which you improve your game.
Below, we'll explore some of the best darts for beginners. You'll learn what makes them good for those just starting out and why they've earned one of our coveted top spots.
Dart Basics
Before buying your first dart set, there are some things to take into consideration. Not all darts are made the same, and each small detail will change how your darts perform. You should consider the weight of the dart, the overall size, the shape of each part, and the material of each part.
Tips
A good dart comes out of the package perfectly sharp. It should hold that tip for many uses, but it will eventually wear down and need to be changed. You can purchase new dart tips for nearly all darts, but be sure to check your brand.
Weight
Darts can be heavier in the front or the back. A good balanced dart will feel stable in your hand and fly true when thrown. Try a few styles before you decide. Every player is different, so don't be afraid to mix and match dart parts to create your own unique set, too.
Flights
Dart flights come in a huge variety of shapes, sizes, and weights. While trying your hand at darts using standard flights is recommended, you can switch them out at any time to see if another style fits your form better. We've covered this in greater detail here.
Top 5 Reviews
Ignat Games Steel Tip Darts
The Ignat games steel tip dart is the winner in our list. High quality doesn't have to mean high price, and when it comes to beginner's darts, this set is the perfect example of that. These well-weighted darts are ideal for beginners, but can easily be enjoyed by pros, too.
The darts stay safe when they are enclosed in their included magnetic box. There's even a dart sharpener included so you won't need to worry about dull darts or fumbling with replacement tips in the middle of your game.
These standard sized darts come in blue, red, and black with stylish flair. This is a complete, versatile set of darts to get you started on the right foot. You don't need to choose value over function and you don't need to spend a fortune to start out in style.
Go Check Out the "The Ignat Games Steel Tip" Reviews from Real Owners on Amazon.
Reasons To Buy This:
The darts are all medium in weight, the ideal choice for beginners
The brass barrels look nice and feel nice, adding both function and style
Included tip sharpener makes maintenance a breeze
Rubber O-rings keeps the darts tight and flying straight
Unbreakable aluminium shafts add stability
Free e-book with instructions and suggestions for new ways to play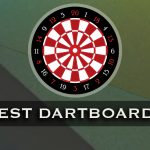 If You Are interested, Read Our Article About
Sametop 12 Packs Steel Tip Darts
The Sametop 12 packs steel tip darts are a modern take on an old game. These are good quality darts for beginners with a small price tag. Available in black, blue, red, and white, these steel tipped darts come sharp and ready to use.
They also come with a tip sharpener, multiple flight styles, and aluminium shafts. The nickel-coated barrel gives a great feel under your fingers and improves your grip. This is especially important for beginners who haven't perfected their grips yet.
Rubber O-rings keep everything tight so your darts won't wobble in the air. This is a fine set for those on a smaller budget, those who wish to try different flights, and those who want to use darts suitable for pros and beginners alike.
Go Check Out the "The Sametop 12 Packs Steel Tip Darts" Reviews from Real Owners on Amazon.
Reasons To Buy This:
Unbreakable and better than PVC rods
The barrels are nickel-plated which provides stability and balance
A variety of dart flights for practice with new styles
Dart sharpener is included to keep the darts ready for play
BullsEye 12 Pack Sports Darts
The Bullseye Sports darts are not just for beginners.
These sleek, classic, and well-weighted darts are suitable for all play levels and styles. They come in basic colors of red, green, blue, and black for a no-nonsense look.
A heavier dart can sometimes help beginners learn to throw with purpose, and this set proves it. Sharp steel tips make sticking your shot a snap. Matt black shafts and gold-look barrels complete the clean and classic lines.
This set is great for families learning a new game together, a group of friends just starting out, or even pros looking for a classic design to add to their dart rotation.
Go Check Out the "The BullsEye 12 Pack Sports Darts" Reviews from Real Owners on Amazon.
Reasons To Buy This:
Simple design and classic look
A large set to share with friends or switch out colors between sets
Comes with replacement flights
Action 15 Pack Arrow Darts
The Action Arrows darts set includes 15 steel tipped darts with unique flight graphics.
An aluminium shaft complements the brass barrel.
The set is complete with a sharpener and clear container so you can see what's inside.
An excellent and affordable choice for beginners and families.
Excellent for game nights in or taking to the pub with friends.
Durable, steel tipped darts with a sharpener and guarantee from the manufacturer ensure long-lasting fun.
Go Check Out the "The Action 15 Pack Arrow Darts" Reviews from Real Owners on Amazon.
Reasons To Buy This:
The darts are balanced and the weight is distributed equally
The shaft is made of aluminum
Rugged brass barrel will be useful for years to come
The dart set comes with a guarantee that is not offered by other companies
ROSE KULI Darts
Rose Kuli darts are one of a kind when it comes to appearance. Flashy graphics adorn each standard flight, making the different shades of shafts and barrels pop. Steel tips keep your darts in the board, and the built-in O-ring makes sure the darts stay tight, even during travel.
The heavy, 24-gram darts are a great way to train beginners to throw straight and with purpose. Everything comes in a nice EVA case. This is a great set for beginners to try their hand at a new sport.
Well-weighted, great balance, and flashy designs tick all the boxes for a good investment.
Go Check Out the "The ROSE Kuli Darts" Reviews from Real Owners on Amazon.
Reasons To Buy This:
The length of these darts is sufficient for any person
The weight of the darts allows you to enter the big leagues sooner
The darts have inbuilt features that do not loosen the shaft and the tip and the dart stays intact for a long time
They come in a gorgeous case which can be gifted to a loved one
It is a cheap dart set
The quality is exceptional and it will last for a long time
It is highly durable and unbreakable even when used roughly
Conclusion: What Are the Best Darts for Beginners?
Whether you're aiming for the big times or you just want to try a new sport, these darts for beginners are a sure way to get you hooked on darts.
Top quality, trusted brands, and affordable prices are just the beginning. But don't take our word for it. Check out the reviews for each of these sets to see for yourself.
Last modified: