An interesting trend in the pool table market has appeared. Traditional large billiard pool tables are being replaced by bumper pool tables.
Bumper pool tables are sensible alternatives to standard pool tables because of their unique and distinctive shapes.
The value goes beyond appearances though.
Let's explore bumper pool octagon vs rectangular tables to help you pick the perfect table for your needs.
What is Bumper Pool?
The bumper pool table aims to replicate the traditional billiard game but on a smaller and more compact scale.
These conveniently-sized tables are available in rectangular, round, octagonal, eased octagonal, hexagonal, and scalloped rectangular shapes. The latter three shapes are usually special orders, but the others are openly available as-is, without much fuss.
Bumper pool tables have two pockets. These are located on each end of the table and come in a variety of sizes.
Octagonal bumper pool tables range in length from 42 inches to 60 inches, while the rectangular bumper pool tables range in size from 30 x 48 inches to 46 x 62 inches.
No matter the size or shape, they all come with a carpet coating similar to standard pool tables. That means felt placed over a wooden base.
These tables are the perfect choice for modern homes not only because they are compact, but they also come with a terrific 3 in 1 feature. They are a combination bumper pool table, dining table, and poker table.
This is made possible by a removable top, which typically has a lovely wooden façade of oak, mahogany, or cherry on one side for a dining experience.
On the other side you get the perfect surface for a poker game. Remove the top completely and you can play bumper pool.
How to Play Bumper Pool?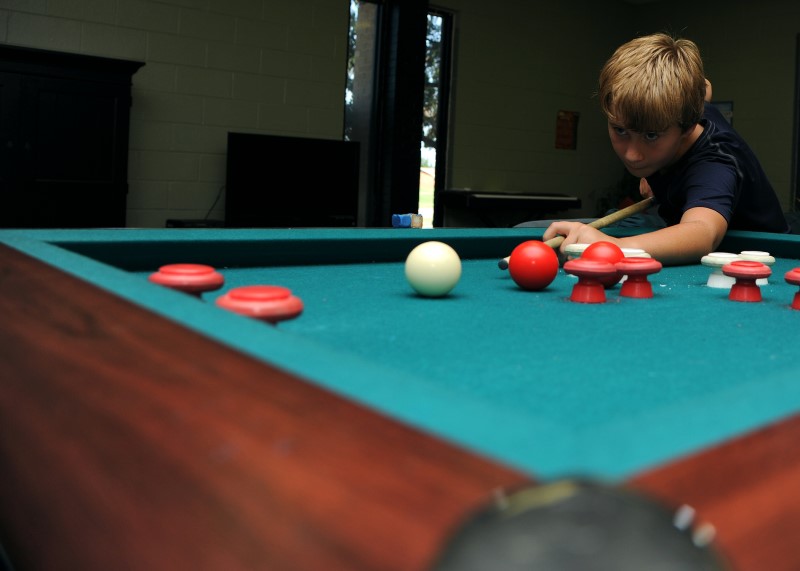 Octagon vs rectangular bumper pool tables, the rules are similar.
Bumper pool is like a hybrid of pool and pinball. No matter the shape or size, bumper pool tables have bumpers inside the play space of the table—these add a new challenge to the game. Each bumper is fixed and cushioned. There can be anywhere from twelve bumpers on the smallest table and sixteen bumpers on the largest table.
A typical set of balls in a bumper pool game consists of ten balls. They include four white balls, four red balls, one red ball with a white dot, and one white ball with a red dot. The five white balls are placed at one end of the table, with the red-marked ball or cue ball, in front of the pocket of that side. The five red balls are placed at the other end of the table, with the white-marked ball, or cue ball, in front of the pocket of that side.
The game is played by two or four people for a total of two teams. The cue balls are hit by both competitors simultaneously and should be aimed for their respective color cups after banking off the side rail, or cushioned edge. You must get the cue ball into the pocket first.
If some other ball is pocketed before the cue ball, the other player may take two of his balls and put them inside his cup. The player who takes the next turn is the one who was successful in pocketing his ball or the one who has the ball closest to his pocket.
However, if there is a player who sinks his own color ball in his color cup, he is allowed another shot without giving the opponent a turn. In addition, should a player shoot a ball outside the table, he faces a penalty. His opponent can pick two of his balls and put them in his color cup.
Eventually, the player or the team who is successful in pocketing all five of their balls first, wins the game.
Though these rules cover the basics of bumper pool, there are countless variations. Some are house rules and some are widely recognized by enthusiasts. All of the additional rules and game modes add more challenge and more ways to enjoy this twist on standard pool.
What Are the Differences Between an Octagon Bumper Pool Table and a Rectangular Bumper Pool Table?
There are a number of differences between rectangular bumper pool tables and octagon bumper pool tables. It's important to note that custom tables can be ordered, so you may see a wide variation from what we've covered below.
Bumpers
The first and most significant difference is the number of bumpers and their placement. Rectangular bumper pool tables typically come with 12 bumpers altogether. Eight bumpers are placed around the center and two are present at each end of the table. In octagonal bumper pool tables, there are usually only eight bumpers.
Materials
Most rectangular bumper pool tables are made of slate, wood, or some other durable material. Octagonal bumper pool tables are usually made from oak, mahogany, or walnut because they also accommodate the 3 in 1 feature of poker, dining, and pool table. The rectangular bumper pool tables do not usually have this feature.
Size
The eight-sided octagonal bumper tables are a lot more compact than the rectangular ones. Some even say they are more elegant. They are especially suited for smaller rooms or places where a touch of class is desired.
Complexity of Gameplay
The eight-sided geometry of the octagonal bumper pool table lends a new level of difficulty to the game. Having to consider the new shape along with the bumpers gives a deeper challenge to players.
On the other hand, rectangular bumper tables are a pocket version of traditional large pool tables, where you can replicate the traditional pool game entirely while saving space.
Other Games
If you're in the mood for something more than just billiards or poker, you can order a combination table.
These come with a variety of games such as foosball, ping pong, push hockey, etc. all combined in one table. For information on some of the best combination tables out there, check out this article.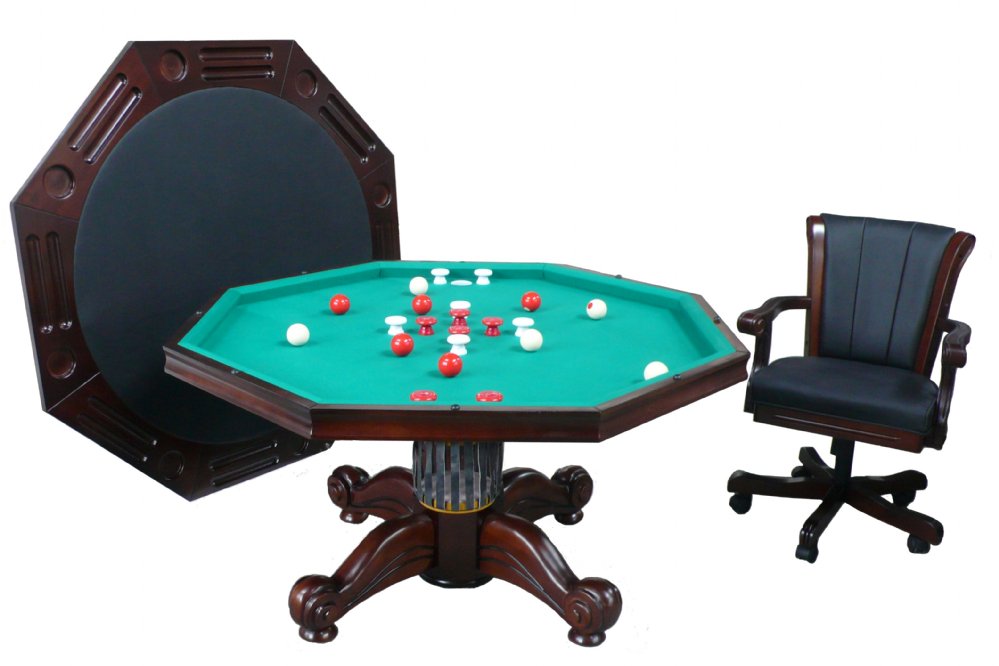 Choosing the Right Bumper Pool Table
Now that you know the benefits and features of bumper pool octagon vs rectangle tables, there are some important points to consider before you buy.
Table Materials
Bumper pool tables are made from materials such as wood or slate, with the former usually used for octagonal bumper tables and the latter usually used for rectangular bumper tables.
Slate is much easier to maintain compared to wood. Under unfavorable conditions, wood tables can be subject to termite attacks. To avoid this, be sure to keep your game room conditions ideal.
Quality of Cloth
The cloth which covers the rails and the playfield should be standard or good quality felt. That means it should not be too thick or too thin and should be evenly applied. It can be any color such as red, blue, or green. Any material other than felt should be avoided as it won't be durable and easy to maintain.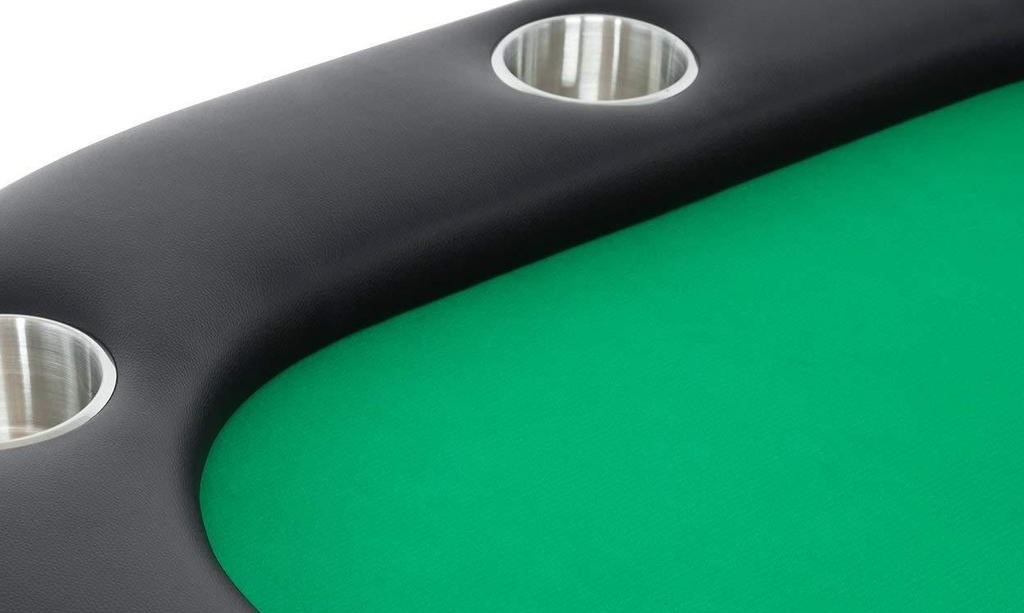 If You Are interested, Read Our Article About
Accessories
The accessories that should come along with any table should include a pair of good quality cues and a standard ball set consisting of 10 balls of 2 1/8-inch diameter each. Furthermore, chalk and brush should also be a part of the accessories. You may also get a set of levelers for wooden tables.
Table Dimensions
The dimensions of octagon vs rectangular bumper pool tables vary. In case of octagonal tables, the length can be of 42, 48, 54, and 60 inches. For rectangular bumper pool tables, the sizes can be anywhere between 30 x 48 inches and 46 x 62 inches.
Table Shape
The shapes that are most preferred by players and are most popular in the market are octagon tables or rectangle tables. Other shapes are also available, but those are made to order to fit specific requirements of players.
So What Is the Big Difference?
Indoor games are a great way to bond with your family or friends in a relaxed and familiar environment.
These compact, multi-function tables save space in your home. We've covered a variety of options such as rectangular bumper pool tables, octagonal bumper pool tables, and combination gaming tables, so hopefully you've seen something that piques your interest.
An Octagon Bumper Pool Table can not only save up space in your room but is also the most ideal option if you want more than that.
The biggest difference is that you can turn it into a poker/card table.
Do you feel like you better understand the features of octagon vs rectangular bumper pool tables? Do you have a bumper pool table you'd like to gush about?
We'd love to hear your questions or comments on the topic, so feel free to drop a note below.
The 2 Best Bumper Pool Tables to Buy Right Now
This terrific rectangular bumper pool table is manufactured by Berner Billiards.
Their prime motive for designing this beauty was easy setup to get you playing faster.
As such, it comes mostly assembled. You simply attach the legs and start playing.
The table is made of premium-quality, durable slate with legs composed of solid wood.
It measures 30 inches in length x 45 inches in width.
It also comes with all the magnificent accessories you need to play the game such as a set of ten standard balls and two cues of 48 inches each.
The chestnut finish combination table comes with carved legs offering the ultimate level of sophistication and class.
If you want functionality with elegance, this is your table.
It has the finest finish and serves not only as a pool table but also as a poker table and dining table.
Furthermore, it comes with the offer of purchasing 4 rocker chairs separately, which contributes to a complete dining experience.
This 3 in 1 combination table comes with everything you need to play pool such as a pair of cues, a set of ten high-quality balls, and table levelers.
Image Credit: gametables4less.com
Last modified: