Combination game tables are so popular these days because of their unique space-saving and money-saving qualities. Whether you have a full game room or simply want to use a smaller space more wisely, a combination game table might be your best bet.
Among the best combination game table reviews, the one that we found most efficient is the Lancaster Combo Arcade Game Table. It is not very expensive but at the same time gives you the best options.
What's the Problem with Regular Game Tables?
Regular game tables are nice, there's no disputing that. They come in a variety of shapes, sizes, and styles, but they can be very expensive. These costs often make them beyond the reach of budget-minded families.
Worse yet, single purpose game tables tend to take up a lot of space. People who don't know you can get a combination game table often end up choosing the one game table style they believe will be used most often. But, more often than not, they eventually get bored of its limited uses. This is especially true in families with kids.
Suddenly, that cool game table starts to look like a huge waste of money and space. But you're not trapped. Combination game tables can save you money and space!
What's so Great About Combination Game Tables?
Combination game tables are the best of both worlds. You get a space-saving table that combines a multitude of game options. You also get to save heaps of money by only purchasing one table instead of three, four, or even ten.
There are many combination game tables on the market, including those meant just for kids, those for just adults, and those meant for everyone. That can make shopping for a combination game table for your family tedious and sometimes frustrating. We've done the research for you though, so you can get back to the important stuff. Gaming with your friends and family!
Check out our reviews of the best combination game tables to add to your game cave. The tables listed here are the most compact designs with the best features and highest quality materials.
Reviews of the Top 3 Multi-Game Tables
Lancaster Pool Billiard Slide Hockey Foosball (3 in 1 Combo Arcade Game Table – 48 Inch)
Lancaster gaming company is a well-respected gaming company that has developed some impressive combination game tables.
The Lancaster 3 in 1 table is the perfect table for pool, foosball, and slide hockey.
All three games come packed in one sturdy, stable, and portable table that's pleasing to look at.
Trying to fit three full-sized game tables in the average home would be a logistical nightmare!
With this beauty, you don't have to get an engineering degree or remodel your home.
This table allows you to have all the fun of these three games, without having to dedicate a large amount of space to single-style game tables.
This table is completely convertible. Shift to the next game in seconds, but keep everything secure with the side locks.
There's even built-in storage for all the pieces for each of the three games.
You will need to put the table together when it arrives, but the kit comes with a complete instruction guide.
Many users report a one to three-hour assembly time. Once it's put together, however, it's a sturdy table that won't need much in the way of maintenance.
Even with such a low price, this product is made with high-quality materials, has great features, and boasts a multitude of uses. Suitable for just about any size home or game room, the compact size makes this table an easy choice for most players. Adults, teens, and families can all enjoy the three games, and the style can fit into most décor.
Go Check Out The "Lancaster 48 inch 3 in 1 Combo Arcade Game Table" Reviews from Real Owners on Amazon.
Reasons To Buy This:
It has three games incorporated into one table: pool, slide hockey, foosball
48-inches, compact design for use in homes or games rooms of any size
It weighs approximately 62 pounds
Comes with side locks that keep the table in place and prevents it from falling
Comes with a system of manual scoring on each side of the table
Built-in storage
Teens, adults, and families will enjoy this table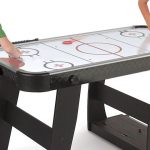 If You Are interested, Read our Article about
Sunnydaze Decor 40 Inch – 10 Combination Multi Game Table
This combination table by Sunnydaze is the ultimate gaming table for kids, teens, and families. Most combination game tables have 3 or 4 games included, but this beast of a table has 10 different games all in one compact and beautiful design.
Whether you prefer action-packed games or things a little more on the brainy side, this combination game table has something for everyone. It comes with everything you need to set up, so you can spend more time playing and less time building multiple tables.
The design of this table is a little less adult, though that doesn't mean an all adult game night is out of the question. With so many games to choose from, it's not likely anyone will care much about the family-friendly graphics on the sides.
The games included are:
Backgammon
Chess
Cards
Checkers
Foosball
Slide hockey
Bowling
Table tennis
Shuffleboard
Pool
Assembly of the table is easy and boasts an innovative, logical design. It does not require hours of screwing stuff together. Most people can assemble the complete table in under an hour.
The two main tables are the pool table and the foosball table. They each have their own measurements, but they stack. Switching between games is a snap. Simply lift away the current table top, replace it with your new selection, and you're done. Each piece not in use can be stored between the other tables, out of the way but not lost.
In addition to the plethora of features and the high-quality construction, this combination game table also comes with a 1-year warranty by Sunnydaze that provides a worry and stress-free purchase.
This multi-game table is a bit higher in price than some other options, but the features and quality of the materials make it worth the price. It is an ideal choice for you if you are a table game enthusiast with limited space or prefer a more compact design.
Go Check Out The "Sunnydaze Decor 10 Combination Multi Game Table" Reviews From Real Owners on Amazon.
Reasons To Buy This:
Ten different games in one table
Simple, efficient assembly
Built-in storage for each game top
Compact design fits in most homes or game rooms
The dimensions of the billiard table are 22.5 inches wide x 27.5 inches tall x 40 inches long
The dimensions of the foosball table are 24 inches wide x 32 inches tall x 41.25 inches long x 3.5 inches deep
It comes with a 1-year warranty
How To Assemble:
Fun Mall Multi-function Table Blue (4 in 1)
If you're looking for a gift for a game-enthusiast kid, this is a great bargain. It's a top-quality table with a compact design that includes four games. The games include air hockey, table tennis, billiards, and foosball.
Knowing that kids can be rough on furniture, Funmall made this table to last with sturdy construction and high-quality materials. MDF, PVC, and metal will keep this table standing for years to come.
It's easy to assemble, simple to switch between games, and stores nicely with folding legs. It's truly the ultimate in space-saving without skimping on the fun.
This table is less likely to appeal to adults. However, it makes an awesome addition to a family game room.
Durable, compact, easy to store, and easy to assemble, you can't go wrong with this table for a child or teen's room or game room. While not suitable for very tall adults or serious adult game nights, this is a wonderful option for family game nights.
Go Check Out The "Fun Mall Multi-Function Table Blue" Reviews From Real Owners on Amazon.
Reasons To Buy This:
It has a total of four games
The table has foldable legs for easy storage and maximum space-saving
It is made with MDF, PVC, and metal, which makes it quite sturdy
Comes with everything required to play the four games
Weighs 73.5 pounds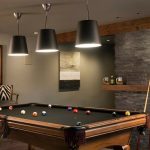 If You Are interested, Read our Article about
Are They Worth the Investment?
Combination gaming tables can make your gaming nights more exciting and easier to accommodate since everything is included in one compact table.
While reviewing the products mentioned above, we came away with a definite winner.
The Lancaster 3 in 1 – 48 Inch Pool Billiard, Foosball, Slide Hockey Game Table has a completely balanced design.
Though it's suitable for children, it's the one table in our list that's the most adult-friendly in both aesthetics and functionality.
Last modified: