The term "game room" is thrown around a lot these days without much thought to what it actually means. The term means something different to a newbie than it would to a seasoned gamer or a person adept at entertaining guests. If people can't even agree on a definition, how can they be expected to create an awesome game room? Don't worry, we're here to shed some light on this topic and get you started on the coolest game room around. But to begin, we must answer the question:
What is a game room in a house? A game room in a house is a room or section of space for playing games, relaxing, and entertaining guests. Game rooms are usually set off from the rest of the house, decorated differently, and filled with entertainment options.
What a game room looks like, what it holds, and how it's used will vary from house to house. One thing is for certain, however: a game room in a house is not the same as a public game room. That means you'll need to know the details before you can make a great game room of your own.
Game Room, Rec Room, Rumpus Room, Oh My! What Is a Game Room, Anyway?
Not long ago, many upscale American homes had a place for homeowners to relax, play games, and entertain guests. This was separate from the main part of the house, a kind of oasis away from the hustle and bustle of the outside world as well as the drab, everyday boredom of modern life. Back in the 40s through the 70s, the room was often called a rumpus room or a rec room and was mainly the domain of the man of the house. It was the original man cave.
Sometime in the 80s, around the time video games were becoming more mainstream, the room's name and purpose changed. More people were able to afford this luxury space and so more families created one, making room for more types of entertainment, too. This is when the term "game room" become more popular than the other terms, and it's still used today.
While the name has changed and the activities have evolved, the basic idea is still the same. A game room in a house is a space used exclusively for leisure activities. Whether your favorite recreational activities at home include movies, music, video games, board games, or big games like pool and darts, you need an awesome game room to show off all your toys and to keep your guests coming back for more.
How Do You Make a Game Room?
The name implies that your game room needs to be a separate room, but that's not the case these days. A game room can actually be a room set off from the rest of the house or just a space in a bigger room specifically designed to make gaming easier.
Some game rooms are housed in spare bedrooms, unused dens, or even just the dining room. The keys to an efficient and fun game room include decoration, accessibility, and functionality. Where the room is located is not important.
Basically, put your game room where it'll fit, but fill it with awesome stuff!
What Goes in a Game Room in a House?
Games of course! Which kind of games you put in your game room will depend on your personal tastes and if you plan on hosting lots of guests or just a few at a time. Figure out what you like to do, then fill your game room with anything that will help you do that activity.
Sounds simple, right? It should be, but lots of people mess this up. Try to stay focused on what you enjoy and not too worried about keeping up with the Joneses across the street. Here are some examples of focused game rooms to get you started.
Home Theaters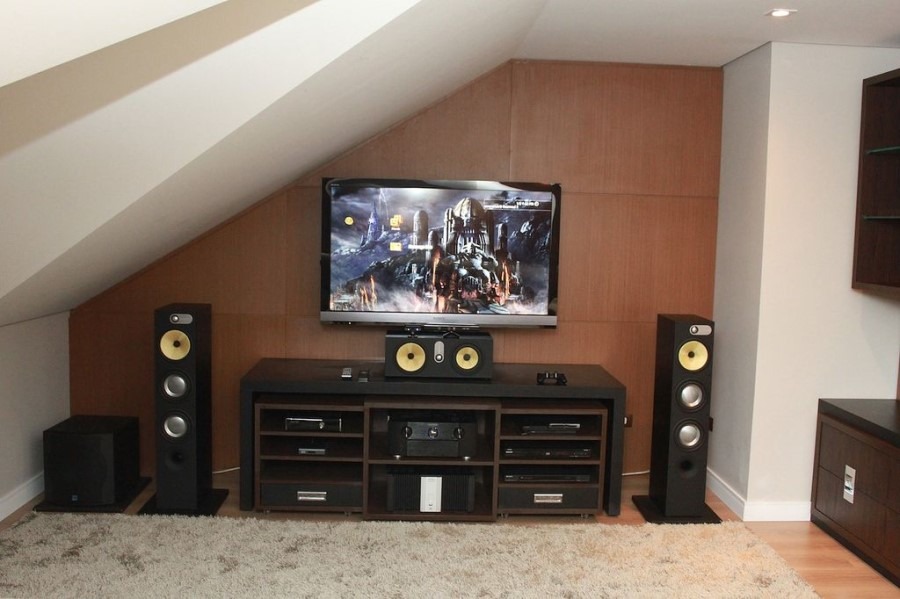 A home theater is a specific kind of game room in a house that is designed to show movies and play music with epic sights and sounds. Home theaters are also the ideal place for avid video gamers.
You will need comfortable seating for the number of people you plan to entertain here. Choose durable but luxurious furniture. Leather is usually best, as this is easy to clean. Lots of home theaters offer seating choices ranging from big couches, reclining chairs, and even huge bean bags.
Most home theaters have a massive screen of some kind to view movies and videos. This can be a projector, a big screen TV, or a combo of any types you fancy. If you're into tech gadgets, there are lots of cool home theater options on the market right now, and prices aren't too bad either.
Make sure you include a killer sound system in your home theater. No movie is complete without great surround sound. We have an in-depth guide right here.
Board Games and Tabletop Games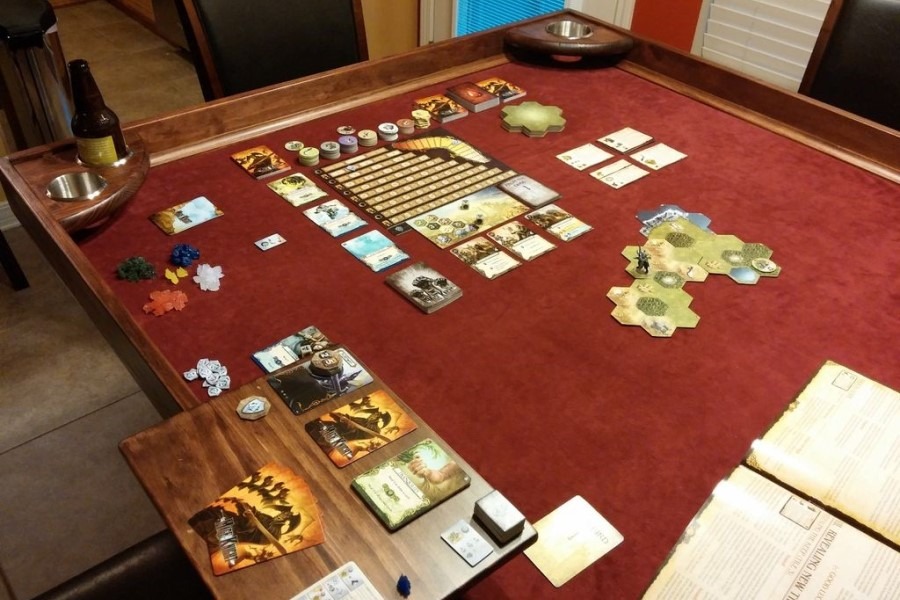 If your game tastes run more toward board games and tabletop games, you can design a game room that reflects that affinity without spending a ton of money.
First and foremost, you'll need a sturdy, large table. The whole point of board games and tabletop games is to enjoy them with friends. If your table isn't large enough, you might as well be playing all alone. Opt for a table with corners; round and oval tables just aren't good for big games. If your game space is limited, such as in a studio apartment, you can choose a foldable game table. They're not as chintzy as they used to be.
Make sure your seating is comfortable. Tabletop and board games can go on for 6 or more hours. You don't want your guests' butts to fall asleep. Opt for sturdy chairs with plush cushions. If you must use folding chairs or other portable and easy to store chairs, splurge on comfy cushions to add after they're set up. Your guests will thank you.
You'll need good lighting in a game room designed for board games and tabletop adventures. Cards, character sheets, and rulebooks are hard to read in crappy lighting. If you can't rewire the game room, you can still get some nice floor lamps or clip-on table lamps to help players see their sheets.
Shelving is a must for board game aficionados. You'll want to show off your game collection, so look for shelving that can be mounted on a wall or is inside a freestanding cabinet. I like glass doors on mine so everyone can see what I have, but you may wish to keep your stash a secret so you can surprise guests with new adventures each time.
Pub Games and Large Games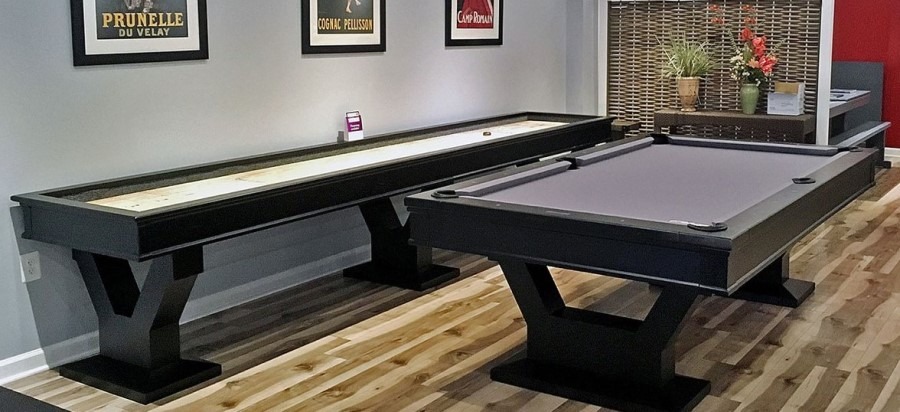 For fans of large games such as pool, table hockey, and pub favorites such as darts, you'll need a lot more open space. That means you'll need to consider your seating options carefully to avoid blocking valuable game space. Pool needs a lot of room for the table, while darts requires a lot of room between the throwing position and the board.
You can maximize space in these types of game rooms by measuring everything in advance and choosing furniture, tables, boards, and gear that can be tucked away when not in use. We have a quick guide to some combination game table options on tight budgets right here, including some for younger gamers.
A great way to maximize space in this type of game room is to utilize space underneath seating and the tables for storage. Balls, chips, darts, and tools can fit in these small spaces, clearing up more floor space for the games themselves. Don't forget about hanging things from the ceiling or the walls, too.
All-In-One Game Rooms and Small Spaces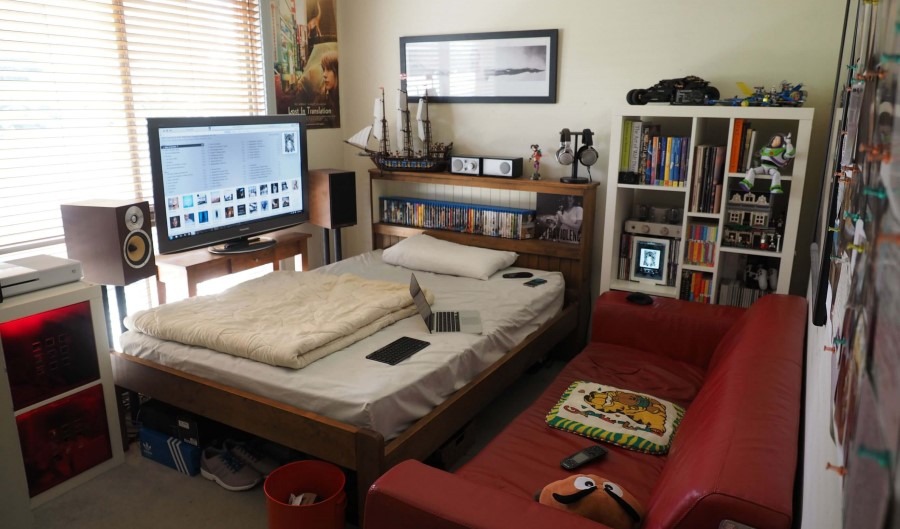 This may come as a surprise to you, but you can create an all-in-one game room in a house that encompasses everything mentioned here, plus more. And you can do it all in a surprisingly small space. Some people have managed to have it all in a one-bedroom apartment in the middle of the city. All it takes is planning and creativity.
Look for tables, chairs, and equipment that can serve double or triple duty. High-backed, compact bar stools along the walls during dart games and pool can double as comfy gaming chairs for cards later on, for example. Combination game tables are awesome, too. They come with many games already setup and ready to play—you just switch the top or flip a switch. Bumper pool tables are another great option because they come with covers that let you use the table topper as a regular game table, too.
Choose furniture that has built-in or even hidden storage underneath or on the back. And don't forget to put up some sturdy shelves above play areas to store extra supplies or things you won't need as often.
Are Game Rooms Just for Kids?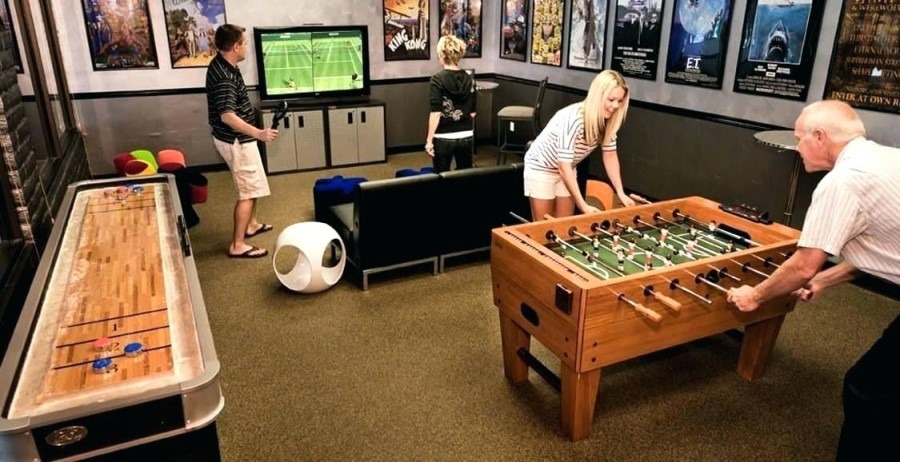 No way! Game rooms are for everyone. If you have kids, you can set aside some space for their stuff, but game rooms are for adults, too. Many childless people have spent a small fortune on their game rooms, as a matter of fact. And why not? Adults like to play games, too.
And if anything, tired, overworked adults need a relaxing space even more than kids do. So, go ahead and make yourself a game room in your house, even if you don't have kids or plan on having any in your home.
Conclusion
It's not only possible to create a game room in any size home, it's fun, too. Building your game collection and your game space is pointless unless you plan to show it off, though. So, be sure to think about your guests and their comfort as you plan and design. Make sure there is room for everyone to sit or stand comfortably, plenty of options for entertainment in your area of focus, or go all out and have a little bit of everything in an efficient design.
You can create a cool game room in your house one step at a time or do it all in one go. However you decide to go about it, we'd love to hear about your experience! Drop us a line and show us what your game room looks like.
Image Credit: instructables.com / robbiesbilliards.com / donpedrobrooklyn.com / sebringdesignbuild.com
Last modified: